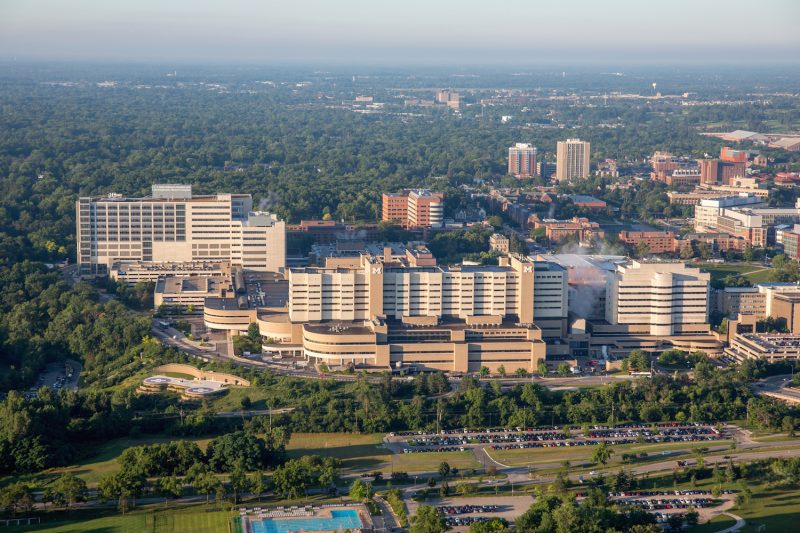 Walkable to U of M Medical Campus/Hospital
The University of Michigan Medical School is currently ranked the number 6 primary care medical school in the nation, competing with Ivy Leagues and other top public universities. Given the school's prestige and Ann Arbor's stellar reputation as America's #1 ranked college town, each spring there is a clamor of new students, faculty, and young professionals moving into the area who are looking to live within walking distance to the Medical Campuses and hospital system.
Come match day in March we receive a flood of new inquiries related to "white-coat" housing as some of our past clients have dubbed it. This article provides a list of some of the best condominium communities within walking distance and a short drive to the Ann Arbor medical campus and hospital areas.
Inventory is always tight in these communities, especially this time of year, so whether you are an investor looking to rent a unit to incoming med students or an incoming faculty member/young professional looking to live within walking distance of work/school, it is good to do your research and know what you are looking for ahead of time so that you are ready to compete with the influx of Spring buyers!
The Crossings of Ann Arbor condos are close to Argo Park and downtown. The community consists of 45 1- 2 story townhouses featuring 1-2 bedrooms and 1-2.5 baths. They are 800-1459 sq. ft. with carport parking. The Crossings rests on a wonderful location along the Huron River, with biking paths that connect to the Argo Park which features a public canoe livery. Walk to Kerrytown, Downtown Ann Arbor, University of Michigan, the U-M Medical Centers, and North Campus all within 5-15 minutes.
Nielsen Square condos are across from the Kellogg Eye Center on Maiden Ln. They provide 1-3 Story Condos and Townhomes built between 2001-2002 that feature modern floor plans with 890-1950 sq. ft., 2-3 Bedrooms, 1.5-2.5 baths, and feature attached one and two-car garages. Townhomes include basement space which may be finished, or have daylight/egress windows. Nielsen Square is located just minutes from the U-M Hospital, Medical School campus, and Kellogg Eye Center. It is a short walk away from Kerrytown, Ann Arbor Farmers Market, Zingerman's Deli. The condos are located on Huron River and near Riverside Park, Cedar Bend Nature Area, and Argo Park.
River House Condominium Community is across from the U-M Medical Centers on Island Dr. They consist of 128 condos built in the 1960s with 458-868 sq. ft. Studio and 1-2 bedrooms units. Condos have a patio/deck/balcony, carports, and an outdoor pool. River House is located in a beautiful setting along the Huron River. Walk to U-M Medical Centers, Medical Campus, Central Campus, downtown Ann Arbor, Kerrytown, and Argo Park with bike paths and canoe livery. One of the most affordable options for medical students that sell and lease very quickly.
Riverside Park Place is known by resident historians as Ann Arbor's first luxury high rise. It sits across from U-M Medical Centers on Wall St. The Condos are 866-1390 sq. ft. with 1-3 bedrooms, 1-2 baths, and they offer private balcony/patio spaces. Riverside Park Place also features a very nice community pool, an updated gathering room,a  lounge for hosting events and entertaining, a bike storage area, a laundry room on each floor, carports, and high-speed cable and internet.
Riverside Park Place is across from Riverside and Fuller Parks, the U-M Medical Center, and the Kellogg Eye Center. Walk or bike to Kerrytown, Downtown Ann Arbor restaurants, shops, and entertainment. Also, enjoy the outdoors with Argo Park biking paths and canoe/kayak livery.
It is important to note that units purchased in Riverside Park Place are no longer allowed to be used as rentals. Only current owners grandfathered in under older association rules are still allowed to rent units in the building.
---
East Ann Arbor Condominiums: 10 to 15 minutes from Medical Campus
The Arbors are located east of US 23 and north of Geddes Rd. They consist of 84 townhouse condominiums located on 16 wooded acres. They offer five different two-story and ranch condominium options with 2-3 bedroom floor plans, basements, and some walkout sites. They are in a beautiful setting with mature landscaping, three ponds with fountains and a footbridge. There is also a community pool, a cabana clubhouse, and a tennis court.
The Arbors Condos are located just minutes from the U-M Medical Campus, U-M North Campus, and St Joseph Mercy Hospital. The eastside location offers commuters easy access to Metro Detroit locations. Nearby parks including Matthaei Botanical Gardens, Nichols Arboretum, Parker Mill County Park and Gallup Park.
Arlington Place Ann Arbor condos located at Huron Pky and Washtenaw 56 ranch-style condos from 1000-1200 sq. ft. that was built on Ann Arbor's east side in 1989. Condos have 2-3 bedrooms with laundry, indoor parking, storage, and pets are allowed by permission. Arlington Place has easy access to the University of Michigan, U-M Medical Campus, and US-23 & I-94. Enjoy nearby shopping at Arborland and Washtenaw Ave with Whole Foods and Barnes & Nobles. Enjoy nearby Buhr Park with picnicking areas & playground, swimming pool, ice skating rink, sledding hill, cross-country ski areas and historic Cobblestone Farm. Also, walk the many wooded trails of nearby Country Farm Park.
Berkshire Creek Ann Arbor condos located at Huron Pky and Washtenaw Large newer townhouse condominiums featuring 1600-2300 sq. ft. modern floor plans built in 2003-2005. Condos have 2-3 bedrooms, 1.1-2.1 baths, decks, and 1-2 car attached garages. Berkshire Creek is walking distance to Whole Foods and near Arbor Hills. Bike, bus, or run to Gallup Park, the Huron River, Huron Hills Golf Course, U-M Medical Centers and Campus, Central Campus, and Downtown.
Brentwood Square Ann Arbor condos located at Huron Pky and Washtenaw 80 Newer attached terrace condos with tri-level, 1.5, 2 and 3-story floor plans built in 1998-2000 with 926-1586 sq. ft., 2 bedrooms, and 1-2 baths. Some have partial basements, decks, attached garages, and in-unit laundry. Brentwood Square has a jogging path and nature area connecting to the bike/walk trail to Huron Parkway Park and Geddes Park on the Huron River. The parks offer boat rentals, community events, adult programs, and classes. The condos are across from Whole Foods and Barnes & Noble. It is a short ride to downtown Ann Arbor and the U-M Medical Centers and Campus.
Earhart Village Ann Arbor condos located between Plymouth and Geddes Rd. 174 townhouses built in the 1970s in a quiet community featuring 2-story homes and 2-4 bedroom ranches. Units come with a detached garage and many have walk-out basements. The location has natural scenery with a small pond, beautiful trees, and wooded areas. The condos have a clubhouse, swimming pool, and tennis courts. Earhart Village is on the AATA bus line, just minutes from U-M Medical Centers, St. Joe's Hospital and easy access to M-14 and US-23.
Pittsfield Village Condominiums condos are located near Huron Parkway and Washtenaw Affordable tri-level and ranch floor plans with a lot of open space. Many units feature nice decks with natural views of wood areas and well-maintained grounds. There is street parking with convenient access to U-M bus line. There are 60 acres of green space, a swimming pool, tennis courts, volleyball courts, picnic areas with pavilions, parks, and playgrounds located throughout. Pittsfield Village is located in East Ann Arbor close to Arborland, Whole Foods, and Trader Joe's. On the AATA bus line, just a short distance to Downtown Ann Arbor and the University of Michigan campuses and sports games.
---
North Ann Arbor Condominiums: 10 to 15 minutes from Medical Campus
Barclay Park condos are located N of Plymouth Rd. & N of Green Rd. 291 luxury brownstone style multi-level condos and townhomes built in 1999-2005 with 950-2100 sq. ft. open floor plans. Many have finished lower levels, walkout, decks/patios, and attached 1-2 car garages. Community clubhouse with fitness center, tennis courts, and walking trails. Barclay Park is close to shopping centers, coffee shops, golf courses, and a new public library are within walking distance. Bike, walk or bus to U-M North Campus, U-M Medical Campus, hospitals and medical centers. On the AATA bus line and close to M-14 and US-23
Chapel Hill condos are located near the U-M North Campus on Green Rd. A large community built in the early 1970s, they feature 2-3 bedroom flats and townhomes with basements. Many condos have fireplaces and a fenced-in backyard or porch. Pets are permitted with permission. There is carport parking, clubhouse, and community pool. The clubhouse offers activities for adults and children. Chapel Hill is a great location that is close to Universities, U-M Hospital, restaurants, shopping plazas, AATA bus line, and close to M-14 and US-23.
---

We are neighborhood experts who will communicate with you openly and honestly as we help you buy or sell your home in the Ann Arbor Michigan or Washtenaw County area as quickly as possible. With our premier marketing services, including a state-of-the-art website featuring over 1000 neighborhood pages, we are committed to making the process of selling or buying easy and accessible.
Your circumstances are unique, and so are your homeownership needs.  Contact us today.  We'll be happy to help in any way we can. Fill out the contact form below with any questions, or to ask about buying an Ann Arbor area house or condo!
---
Contact Us
Related Posts