The Lowertown Riverfront Conservancy is making headway on the new city river public use space called Broadway Park West. Groundbreaking began in January and many exciting new community features will be in place once the project is completed.
Broadway Park West Features
Many of the new features of the new Broadway Park West will integrate with the Ann Arbor current trail systems. There are plans to coordinate future programs with the ongoing activities happening at the canoe and kayak liveries near Argo Cascades and the Argo Loop.
Riverfront Trails and Community Gathering Spaces
The plan for Broadway Park West has a riverfront trail that connects to existing trails with access to a year-round event pavilion with concessions, a shade structure, and public restrooms. This completely pedestrian oriented space has many gathering areas, a performance lawn and areas for seasonal water sports and winter activities.
Water Play, Ice Skating, and Paddle Craft
During the warmer months, there is a Water Play area for children of all ages to enjoy, and also a paddle craft launch facility that will have paddle boats for rent. During the colder months, there is an ice skating ribbon winding above River Street.
Condominiums and City Lifestyle
Once called "A forgotten island", new developments will bring vibrancy to the area with several condominiums being built along the pedestrian friendly waterfront trails along with new spaces for local retail businesses.
A waterfront food and beverage venue is in the works, helping to transform this forgotten space into a community beacon and new neighborhood for locals to visit for a walk along the Huron River.
Future Parking Options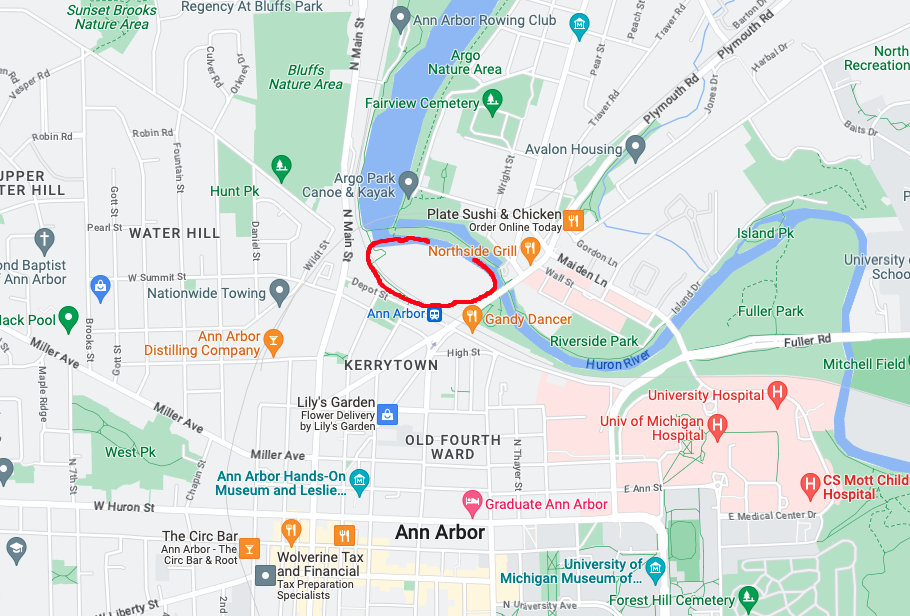 There will be street parking available, surface parking lots, and a 2 story parking deck attached to the condominiums that will be available for parking once the park is finished.
Related Posts