A multigenerational home is a household made up of three or more generations of a family living together in the same house. Multigenerational families usually include 2-3 related adult generations, as well as their children.
This unique living situation is becoming more common and requires different considerations to make it work for your and your family when you are looking to buy.
Separate Entrances
Family members can have different schedules and routines, so having separate entrances will help to keep noise down as people are going about their lives.
Privacy is a frequent concern of those that are already in multigenerational homes and having private living spaces with separate doors ensures greater privacy when needed.
Different Floors
In addition to having multiple entrances, having different family units live on separate floors will increase the feeling of privacy and allows families to customize their space in the way that best fits their lifestyle.
Multiple Kitchens and Bathrooms
Just as in every living situation with many people, more than one bathroom will be needed to make sure that everyone is able to get ready in time in the morning or during other busy times of the day.
Another consideration is to also have more than one kitchen, as these utilitarian areas can become overloaded easily.
Daylight Basement
A finished, daylight basement will be the best option when choosing a home so that if you are to use the basement as a living space, there will already be enough daylight from the windows to ensure a fresh living environment.
Older foundations are more likely to create musty basement living conditions, so consider choosing a newer build if you or your family will be spending a lot of time in the basement.
Accessibility and Safety
Accessibility is important to accommodate all family members during different stages of their lives. Wheelchair accessibility is important for some families, while making sure all parts of the home are child-proof will be important to others.
All homes should have well-maintained walk ways with functional outdoor lighting.
Multigenerational Living and Emotional Wellbeing
Common in many cultures, adults living in multigenerational homes has increased to 26% from only 12% in 1980. People find multiple generational living is a practical decision, and one that increases the emotional wellbeing and financial security for everyone in the family.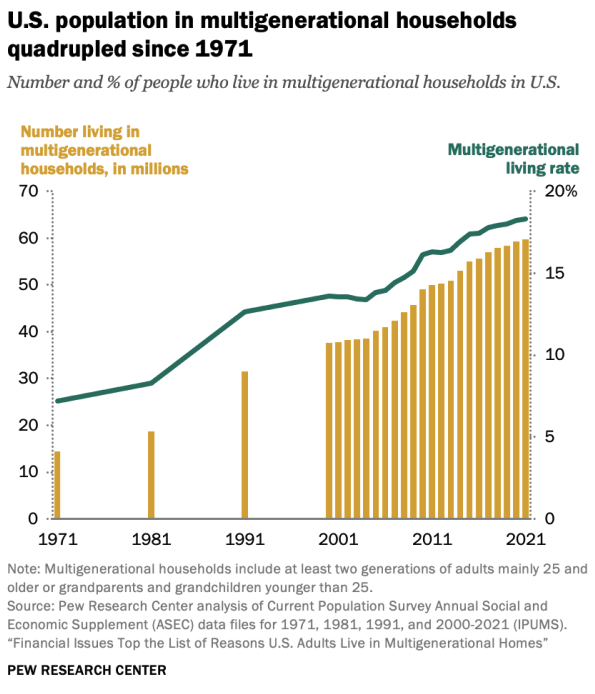 If you have any questions about what homes are available that will best suit a multigenerational living situation, please contact us for more information.
Contact Us
Related Posts