Ann Arbor, MI, area home sellers still have the advantage in the housing market in the fall of 2023 as buyer demand remains strong despite falling affordability. The story of the Ann Arbor real estate market, like most areas of the country, is one of low homes available for sale with "must move" buyers bidding up prices.
Today, 70 percent fewer homes are available for sale than in 2019 and 80 percent lower than in 2011. The low availability of homes for sale is helping keep prices steady, and prices have risen 6.3 percent year to date compared to last year, while affordability has fallen considerably.
Buyers who wish to move can find good properties in Ann Arbor with focus and diligence. Homes are going under contract within 1.4 months on average. With homes priced right and in top condition, continuing to garner multiple offers and selling above list price
If you have plans to be in the Ann Arbor housing market in the upcoming year, read on for my fall 2023 Ann Arbor, Michigan, housing market update.
Why do we have a shortage of homes for sale in Ann Arbor?
New Single Family Home Construction has not kept up.
The Ann Arbor real estate market has a shortage of homes for sale, consistent with many markets across the county. This shortage results from chronic underbuilding as new home construction has not kept up with demand. Even though it seems there is new construction everywhere, nationally, the home building industry has not kept pace with new homes built running well below average since the recession of 07-08, and this is the case in Ann Arbor as well.
Sellers are locked in with low interest rates
Sellers refinanced during the low-interest rate days going back to 2012, especially in 2020 and 2021. Keller Williams Realty Research shows that 89 percent of mortgages have an interest rate of 5 percent or lower, with nearly 60 percent having rates below 3.5 percent. Rates would have to fall close to the 5 percent rate to avoid penalizing sellers – sellers with a 3.5 percent mortgage are not very motivated to trade it in for a new 7 percent loan!
Michigan's Pop-Up Tax favors homeowners with long tenure.
Because of the Hadlee Amendment and Proposal A (you can read a good explanation here), when a property is sold or transferred in Michigan, the assessment is "uncapped," and the parcel is taxed upon its state-equalized value (SEV: 50% of its true cash value). This reassessment upon transfer creates a "pop-up" property tax.
A seller who has a long tenure in a home could easily experience higher property taxes even when purchasing a lower-priced house. This is a structural disincentive for sellers to make a move.
It was designed to be a way for homeowners in retirement with relatively fixed incomes to avoid being priced out of a market by rising property values. While it works great for that, the unintended consequence is it becomes a disincentive for people to sell, possibly contributing to our low inventory problem. If you want to read up on Michigan taxes, here is the 2022 Michigan Taxpayer Guide.
City Zoning, Land Use Restrictions and Regulations, and MIMBYism
Many say restrictive city planning and government regulation are largely responsible for the underbuilding of housing units. There is also pushback from residents to denser developments in residential areas with accessory units, duplex, triplex, and fourplex buildings. Increasing density means taller buildings, smaller lots, more people and traffic, and perceived erosion of the character of their neighborhood.
"Zoning seems like a technical topic, but it touches many of the issues Americans care about most deeply," writes Richard Kahlenberg in his new book "Excluded: How Snob Zoning, Nimbyism, and Class Bias Build the Walls We Don't See." Exclusionary zoning "not only blocks the chance of families to live in neighborhoods rich with opportunity but also stacks the deck against working families by making housing in entire metropolitan areas less affordable." https://www.cnn.com/2023/08/05/business/single-family-zoning-laws/index.html
All of these problems together contribute to our present housing supply situation. I expect they will not be solved anytime soon, so you can expect low supply to continue and to exert upward pressure on home prices.
What Should We Expect for Mortgage Rates in 2024?
Higher rates on mortgages and other borrowing are hurting consumers, and this is what the Federal Reserve wants – for consumers to spend less money to get inflation under control. Until inflation comes down, expect rates to remain high. Many experts predict rates will fall slightly over the next year, but very few think we will return to 3-4 percent mortgages soon. At 7.5 percent, mortgage rates are running near their historical average.
Mortgage rate predictions 2024
Here is what the experts say we should expect for mortgage interest rates for the remainder of 2023 and 2024. Experts have been revising their estimates upwards, and while no one knows for sure, the chances of rates falling below 6 -6.5 percent are small.
National Association of Realtors –  NAR expects mortgage rates to fall to 6.3% by year-end, declining further to 6% in 2024
"With consumer price inflation calming close to the Federal Reserve's desired conditions, mortgage rates look to have topped out," says NAR chief economist Lawrence Yun in a July 27 statement. "Given the ongoing job additions, any meaningful decline in mortgage rates could lead to a rush of buyers later in the year and into the next."
Realtor.com anticipates rates will average 6.4% in 2023, gradually decreasing to 6.1% by the end of the year, according to a mid-year update to its National Housing & Economic Forecast.
Redfin forecasts that rates will stay above the 6% threshold for the remainder of 2023 in a June 14 report.
Fannie Mae puts the average 30-year fixed rate at 6.8% during the third quarter of 2023, pulling back marginally to 6.7% by year-end. T Fannie Mae predicts that mortgage rates will average 6.6% in 2023 and 6.3% in 2024.
Mortgage Bankers Association predicts the average rate will stay above the 6% threshold until early 2024. Conditions are projected to improve later next year when MBA predicts rates will fall to 5% in the fourth quarter.
Should I wait for mortgage rates to drop before buying a house?
Mortgage lender Mark Orr with Lake Michigan Credit Union says don't try and time the market; find the right home you can afford and refinance when rates fall. Over time, you will likely have a shot at lower rates.
"MARRY the home and DATE the rate"….  Interest rates are at a 23 year high and far off of the 70 year lows we saw in 2020 and 2021. The rate increase we've seen over the past 20 months has made every dollar borrowed 66% more expensive and made corresponding housing payments less affordable.

Stepping and back and waiting for rates to fall could be an error because, "you can't time the market"…this applies not only with the stocks and bonds market but also with real estate and interest rate market as well.

The reality is the consumer who's stepped away from buying a home and is waiting for rates to go down is not alone. Many are doing so, but they are likely putting themselves at a disadvantage. When rates come down, MOST of those people who've taken a pause in their house hunt will jump back into a real estate market with still very limited inventory. The result will be increased competition and bidding wars which will invariably drive prices higher.
Home Prices – Will They Continue to Rise?
There were a lot of gloomy forecasts for housing prices when interest rates quickly rose last year. During the second half of 2022, we did see what was looking like a potential free fall in demand. After declining on a year-over-year basis for five consecutive months—the longest run of declines in 11 years.
Home prices in the Ann Arbor, MI market have rebounded and are up more than 6 percent in 2023. Scarcity is a big reason. High-interest rates have prompted homeowners to stay put rather than buy new homes and take on more expensive mortgages, resulting in an unusually low inventory of homes for sale.
Many potential home buyers have given up their search because mortgage rates recently hit a two-decade high. But the homes that do list often still receive multiple bids, driving up the final sales price.
The result is a market in which the overall volume of transactions has fallen dramatically. But prices are generally holding firm outside of a few trouble spots.
Advice for Buying or Selling a Home in 2023 and 2024
Here is what to consider if you plan to buy or sell a home in the upcoming year
Regardless of mortgage rates, affordability, and supply,  People find a way to buy and sell homes for the usual reasons – expanding families, relocating for work, downsizing, being closer to family, and climate considerations, to name a few. Good homes hit the market one at a time, and you can expect several buyers on the sidelines waiting for the same home. Be Prepared!
Don't try to time the market.
Rather than trying to time the market, evaluating your long-term goals first while ensuring you're financially ready is better. You may be in the right position to buy if you have room in your budget, an adequate emergency fund, and sustained income security.  Waiting for prices or interest rates to fall is a fool's game; buy or sell based on your needs for housing first and foremost and as an investment secondarily. Over the long haul, you will win out!
Even if mortgage rates do fall, every slight drop increases homebuyer demand. That's evidenced by MBA's Weekly Applications Survey, which finds a meaningful uptick in mortgage purchase applications during weeks when rates are lower.
Make sure your financing and cash are fully in place
Have your loan fully underwritten in advance if you can. Also,  you may want to consider a two-step loan, where the lender buys the home for cash from the seller, and you then purchase it from the lender, allowing you to enter the market as a cash buyer. New American Funding's NAF Cash program is an example of this.
Watch the Listings this fall and winter!
Many buyers take their eye off the listings in the fall, around the holidays, and in the winter. Great listings can hit the market and sit for a minute, giving you the break you want. The fall and winter could bring better values and a less competitive environment to find the right home. In my experience, September and February offer buyers special opportunities.
Get educated on your top Ann Arbor area neighborhoods under consideration.
Work with your agent, ensure they know your level of urgency, and put them to work hawking the listings for you to dig up off-market listings.
Consider New Construction
Additionally, buyers may find less competition in the new home construction market. Homeowners may be reluctant to sell and sacrifice their low mortgage rates, but home builders remain eager to close the deal. Although new construction homes are typically more expensive than resale homes, builders may be willing to offer other concessions like price reductions or temporary interest rate buydowns.
Work with an experienced local agent to plan your move
If you plan to buy or sell, work with an experienced agent who can help you prepare as much as a year or two in advance!  A good agent can be instrumental in helping make sure your home is in top condition for the market, advise on what repairs add value and which may not, suggest contractors for repairs, help you get rid of stuff, and keep you informed on your home's value and your equity position – all things you will need to have done before going on the market.
We would love to hear from you if you have any questions about the Ann Arbor, MI, real estate market or are planning to move in the upcoming year. Please contact us by phone, text, or complete the form below.
Contact Us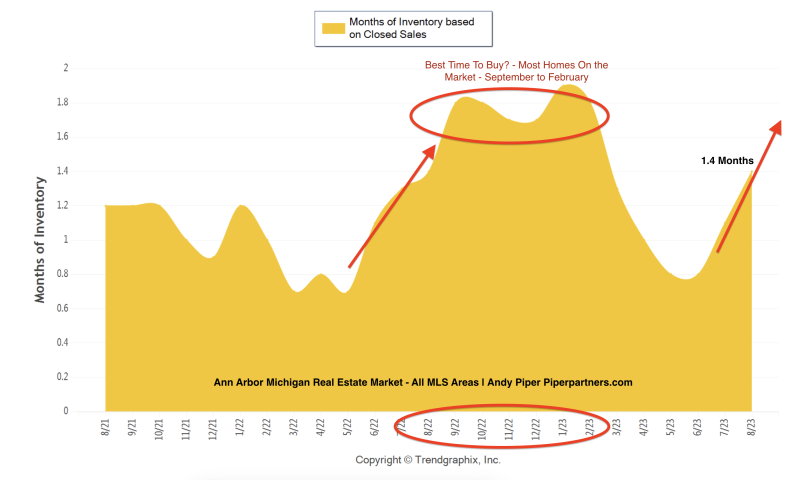 Resources:
https://tradingeconomics.com/united-states/existing-home-sales
Most homeowners already have mortgage rates below 6 percent, prompting them to stay put
https://www.nerdwallet.com/article/mortgages/mortgage-interest-rates-forecast
Related Posts