The Ozone House FOREVER Home Campaign
For four years Piper Partners has been partnering with Ozone House, a non-profit organization that provides housing, meals, private and family counseling, job training, and so much more to homeless youth in Washtenaw county. To date they have raised just over $3.9 million to put towards their goal of ending youth homelessness!
Recently they have moved toward a new goal, however, a brand new campus! Through their Front Door Campaign this campus will become a "FOREVER home" to bring together and expand their current housing and counseling facilities. It will include 12+ safe and private bedrooms, 7 private bathrooms, 17 private counseling rooms, 8 group training rooms and much more! The facility will also be ADA compliant and will have access to public transportation so the youth can make it to school and work each day.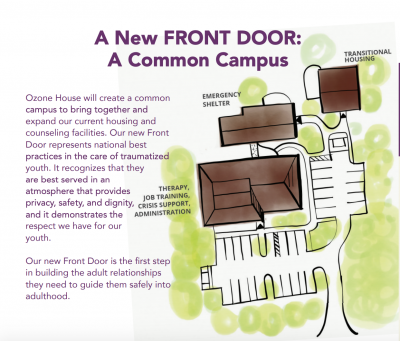 However, this new campus will only become a reality through the generous donations of community members committed to helping Ozone House end youth homelessness in Washtenaw County. That is why we started our own fundraising effort that will help Ozone House reach their $4 million goal set to make the Front Door Campaign and the brand new FOREVER home a reality.
In order to increase our contribution to Ozone House we have created a matching campaign! As a thank you for all of your generous donations, we will match every cent up to $1,250 to help make this new campus a reality! We hope to have raised our matching goal of $2,500 by July 30th!  
If you would like to help us reach this goal and are committed to helping homeless youth here in Washtenaw County please make a donation via our secure donation page!
The Problem of Youth Homelessness in Washtenaw County
Homelessness is a huge problem here in Washtenaw County and all throughout the United States, yet when most of us envision someone who is homeless, how often do we envision youth? The truth about youth homelessness is that it is much more prevalent than most of us initially realize.
Everyday in Washtenaw County alone nearly 1,300 youth remain homeless, a number that contributes to the nationwide number of nearly 2.5 million youth that are currently homeless. Often fleeing mistreatment and abuse, they have found themselves in a situation that most of us can hardly imagine. Out in the elements, hungry, scared, and often feeling that they have nowhere to turn, homelessness affects these young people in profound ways. Without a home they are not only left vulnerable to the dangers of the elements but are often subject to abuse at the hands of those from whom they seek help and shelter. Statistics show that 71% of homeless youth report being subject to physical or sexual violence.

That is where Ozone House steps in! To date, 95% of the youth in their programs have moved onto safe housing and 98% have been reunited with their families thanks to Ozone House's comprehensive family counseling services.
We at Piper Partners know the value of a home. Everyday we help our clients find the perfect home for their situation. From starter homes to forever homes, we understand that oftentimes a home is the center of our busy lives. It is where we can best express ourselves, where we make plans for our future, where we meet with those we love and where we best relax after a long day.
That is why we have chosen to continue partnering with Ozone House through their Front Door Campaign this year! We believe in their mission and have bore witness to their success within the community. As a part of our core values we believe that giving back to the community is imperative and that is why we ask that you help us end youth homelessness with Ozone House as we support their Front Door Campaign! The new campus and forever home will only be brought to fruition through the generous support of a community that actively demonstrates how much it cares for the youth of Washtenaw County.
Related Posts