I just got back from the Keller Williams Realty annual conference known as Family Reunion. It was held in Las Vegas this year, at the Mandalay Bay Casino and Convention Center, and was attended by an astounding 18,000 Keller Williams real estate agents.
Keller Williams Family Reunion is the real estate industry's most powerful training event.

At Family Reunion, Keller Williams associates gather with top agents and leaders for four days of networking and training. It's an opportunity to reenergize and learn from the best in the business, attend powerful sessions, and immerse yourself in KW culture.
This year, I did something at Family Reunion that I have wanted to do for several years: I interviewed people and put together a video. I wanted to document their big takeaways and to bring these ideas home to share with my team. Also, I know from previous trainings I've attended that by speaking your intentions you become more clear about them. Clarity of mission is where it all starts!
While I hope this helps you, it has been beneficial to me as well. It's helped me to become more clear and intentional on what I need to do next to reach my very big 1-year, 5-year, and "Someday" goals.
One of the people who impressed me, as he nearly always does, is Gary Keller himself.  As far as CEO's go he is the most sincere and heartfelt person I have ever seen in this role. What he says matches what he does. He comes from a place of contribution and has truly designed a path for many people to be highly successful in real estate while having a great life.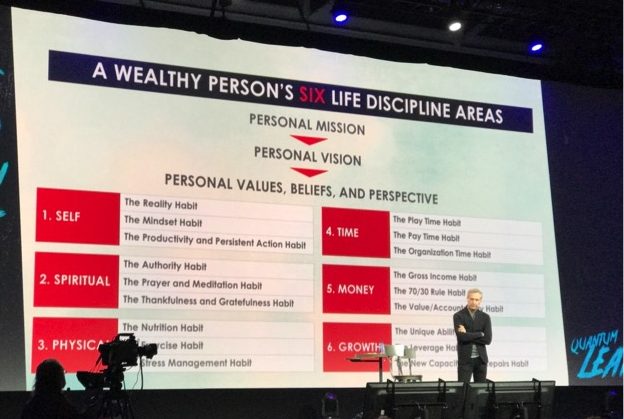 Gary took the stage for three straight hours and delivered his signature mindset training Quantum Leap. This course teaches how to:
Develop a personal roadmap for expanding your life with purpose, direction, and power.

Bring clarity and intention to your choices and actions.

Understand how to balance learning, working and playing in your life right now.
Below are the takeaways from Family Reunion that made it into the video. It was an action-packed trip that has energized me to come back and keep working, learning, and growing. As Gary Keller says, "Extraordinary results happen only when you give the best you have to become the best you can be at your most important work."
:13 Fail your way to success.  Successful people are not afraid of failure. In fact, it is part of your job to try things, take risks, and to fail!  When you are successful, you may learn a lot. When you fail, you learn everything! Who do you think learned more this year from the Super Bowl?  Atlanta or New England?  For those committed to growth, failing causes you to look at your mistakes, deconstruct them, and to grow.

:30  Back to Basics. Time block for your most important work. For me, it's calling and staying in touch with clients.

:50 In five years you can be anywhere you want to be.  You can change your trajectory for where you will be.  Visualize it, write the plan, and then you can make it happen. You can achieve BIG RESULTS.

1:28 Networking is powerful.

3:00 Apply the information you learn at Family Reunion and you can increase your business. Design the plan and stick to it.

4:00 Your current level of success is determined by your current habits. To change your level of success you must Change your habits.

4:20 Get clear on your 5-year plan.

4:37 What you think is what you become.

4:45 Clarity your mission, then only do the most important activities. For me that means lead generate to find great clients to work and to find, hire, and retain talented people.

5:32 Build a life and a business.

6:24 What you time block for is eventually who you become

6:33 Talent is smart, humble, and hungry.

7:05 Gary Keller's 6 categories of Life Discipline

7:10 Interest rates are at historic lows, and prices are at historic highs.

7:34 Set big goals. So big that some might think they are laughable. Aim high.

Your Job as a leader is to create a big vision, set standards, get the right people, and provide them with opportunity.

9:00 Expansion model. Shortcut to success: follow systems get your core business in place first.

11:43 Bring ideas back and share with your team and office.
Related Posts