Ann Arbor Housing Market – Winter 2022 Update
What should we expect for the Ann Arbor Real Estate Market in 2022? Well one thing I know for sure, it won't be a normal market – because there doesn't seem to be a "normal" anymore.
We talk to buyers, sellers, investors, and real estate professionals every day, and based on what we're hearing, we have 8 predictions for the Ann Arbor real estate market for 2022.
Prediction #1: Red Hot Winter Market
Buyers and sellers are ready to go. We expect the first quarter of the year to be strong… In fact we think this will be the strongest winter market we have ever seen. While the first quarter of the year usually represents 12-15% of sales, this year it could be as high as 25%. That means there is no reason to wait if you are ready to buy or sell.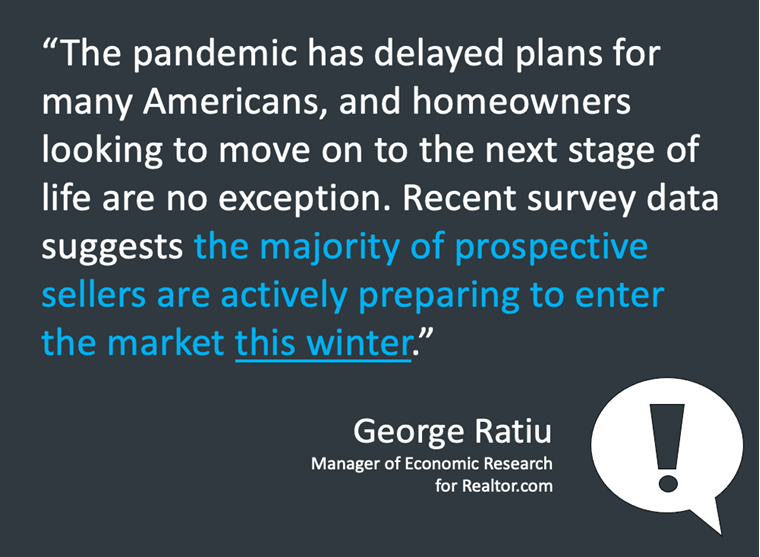 Why do we expect the first quarter to be so strong?
First, the pandemic has changed the meaning of home for all of us, and people are rethinking the spaces they need in a home. They now need spaces such as:
An office for remote work
Space for their children to do their remote learning
A place working out and physical fitness
Room for the extended family
These needs are driving both buyers and sellers into the housing market.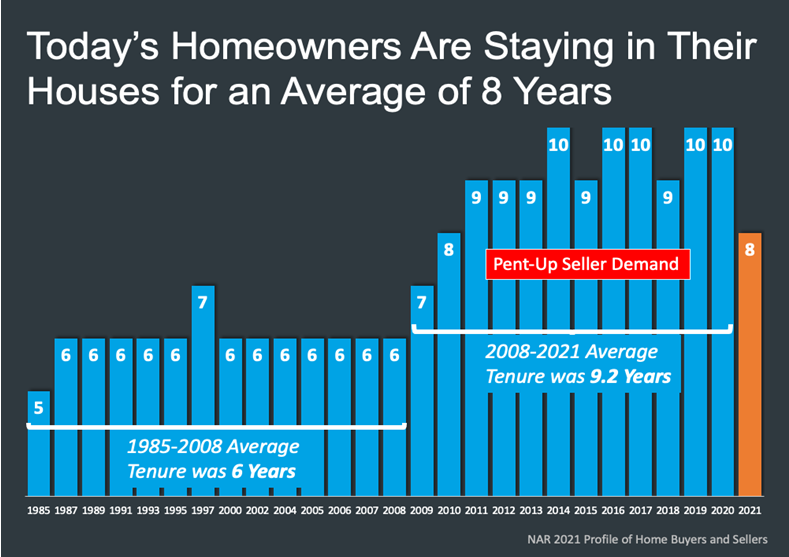 Second, the pandemic has delayed buyers and sellers, but we expect this is the year they will get back into the market. Many sellers we are talking to say they are ready to enter the market ASAP and are actively getting their homes ready.
Another statistic that supports our prediction is that we are starting to see the average tenure in a home drop. From 1985 to 2008, the average tenure was 6 years. From 08 to 20 it rose and stayed close to 10 years. In 2021 it has fallen back 8 years indicating pent-up demand and that people are ready to get on to the next stage of their lives.
Ann Arbor Home Buyers:
If you're planning to shop for a home in Ann Arbor this year, we suggest you get an early start and even consider locking in a purchase before March. March is when we traditionally see a stampede of buyers making plans to come to the University of Michigan. We're seeing buyers purchase properties with renters in place, and take over the lease in order to get ahead of this trend: by doing so they know they will have a place locked up for their needs. We think this is a smart move.
Prediction #2: Homes For Sale Inventory will begin to rise
Inventory will rise slowly, early on, with homes being taken off the market by eagerly awaiting buyers as soon as they hit, often with multiple offers. Later in the year, we'll see the trend slowly inching toward a more balanced supply and demand market with fewer multiple offer situations.
Why?
New construction is picking up speed. Though hampered by supply chain problems, there are many new communities under construction and many more in the planning stages. These new homes will ease the inventory shortage and free up existing homes for buyers later in the year.
Another reason inventory will rise is that existing homeowners and investors have amassed excellent equity positions and are seeing this as the time to cash in their chips. We believe that more people will do what is necessary to make a move this year.
Prediction #3: 5 percent Price Appreciation
The consensus of the experts is that we can expect around a 5% price appreciation this year for the overall national market. After a 10.9% increase for 2021 in the Ann Arbor market, we expect a lower rate of appreciation but one that is still above the historic average. The important thing to remember is that the rate of growth in housing prices is a neighborhood-specific thing and can vary greatly from one area to another.
If you would like to know how much prices have increased in your neighborhood, please reach out. We are happy to keep you updated on trends in your specific area.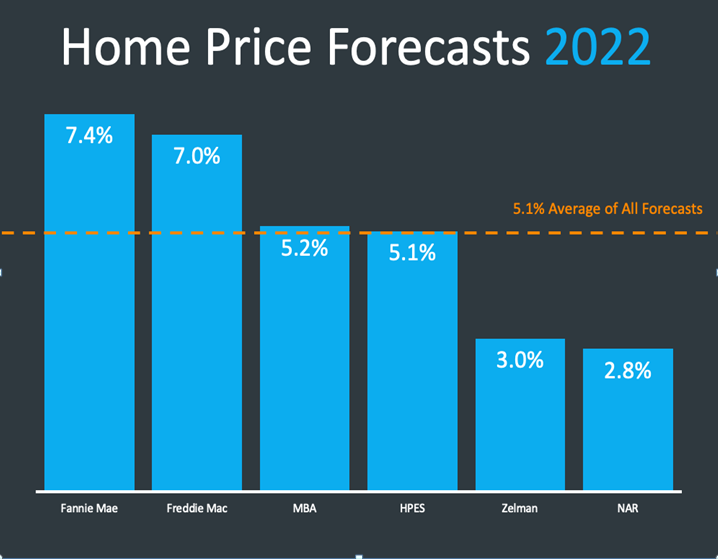 Prediction #4: Rising Interest Rates
We expect interest rates to move to the 3.5 to 3.8 range. That's still historically low, but we'll be in a rising interest rate environment throughout the year and expect rates to continue in this trend back to the historically normal range of 4-6 percent by 2023 and beyond.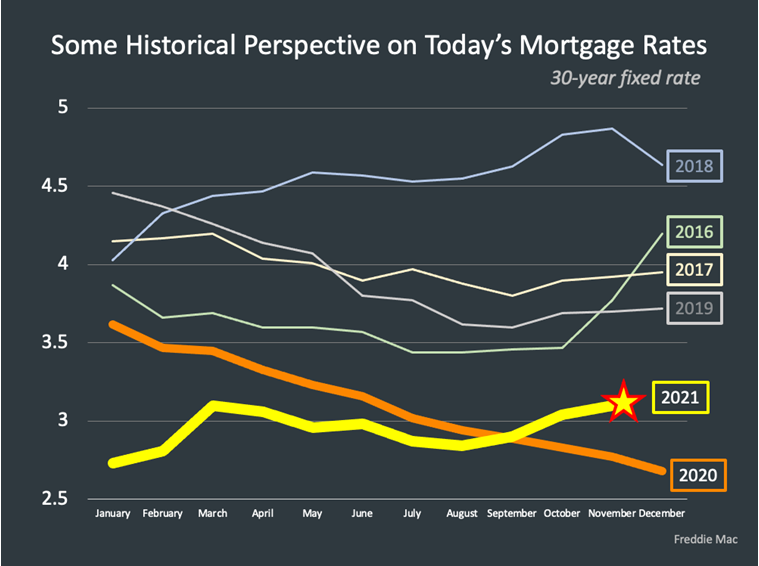 These rising interest rates will motivate buyers who have been waiting on the sidelines to take action. Entry-level buyers will be most impacted and unfortunately, some will be priced out of the market. This will increase demand on homes under $300k, so expect this segment of the market to remain hotter than ever.
Overall, however, interest rates are still historically low! So don't sweat it. Find the right home at the right time, for the right reasons. Don't feel pressured to buy just because interest rates are rising.
Prediction #5: Millennials will be the #1 buyer demographic
Millennials are the fastest-growing segment of homebuyers, accounting for 37 percent of the overall U.S. housing market. Millennials make up an even bigger share of first-time homebuyers.  Millennials who are renting will be looking to escape ever-rising rental rates in exchange for fixed housing costs over the long haul. Millennials also will be looking to house growing families and will be focusing on top-rated school districts as their children near school age.
Millennials are also part of a trend we see of buyers looking to relocate out of high-priced areas such as California, Colorado, and Washington, D.C., to smaller, more manageable-sized cities with a lower cost of living. Like Ann Arbor! These buyers are often millennials with growing families who are established in their careers and looking for a better quality of life, great schools for their kids, and a lower cost of living. The majority of them are full-time remote workers, often with family in the area.
Prediction #6: Baby Boomers are the #1 seller demographic
Boomers continue to rack up equity in their homes and the stock market. They're ready to right-size, pull out equity to fund their retirement, buy 2nd homes, and help their kids with education and housing.
Baby Boomers are the largest percentage of homeowners in the United States and many have homes that are too big for them, now that their kids have gone off to college or moved out on their own. Their homes have appreciated 20-30% in the last few years.
Two years ago, sellers considering right-sizing their home realized they often did not end up with much cash in hand, so many decided to just stay and age in place. Now they have more new-construction options and an additional 20-30% more equity in their pocket. This is motivating baby boomer sellers into action!
These folks may still be working but they are definitely looking at retiring, and all of a sudden, they have the ability to take a big chunk of money out of their home by downsizing from their five-bedroom, 3000+ square ft to a new, clean 1800 square ft three-bedroom condo. They want to take some cash off the table, simplify their life, put that cash into their retirement accounts and retire!
Baby Boomers also own a lot of investment properties and we are seeing a trend where Boomers who are now in their 60's and 70's are getting tired of managing these properties. They have amassed huge capital gains and are cashing out and taking their chips off the table. They realize that capital gains taxes will never be cheaper than they are right now, so instead of reinvesting in another property or 1031 Exchange, they're simply cashing out, paying the taxes, and then doing other things with it.
The point is, the market has given many boomers a giant windfall. They're retiring early, they're buying second homes, they're funding their grandkid's college education, and they're buying their kids a house, right? They're cashing out to avoid capital gains, and they might be transitioning into senior housing. This trend will grow in 2022.
Prediction #7: Continued Supply Chain Constraints
New construction will continue to be slowed by supply shortages and the higher costs associated with that, but as new construction units in the pipeline are sold, this will likely bring one more existing home to the market. We'll continue to see this throughout 2022.
Remodeling projects also will be both delayed and more expensive. A project you thought would take 4 weeks to complete, you should expect to take 4 months instead. In fact if you are thinking of doing a remodeling project this year, get started now and line up your contractors. Many contractors are already booking into 2023!
If you're looking for a good contractor, reach out to us, we maintain a large list of vetted contractors who have done great work for our clients.
Prediction #8: No Foreclosure glut
Don't wait around for the foreclosures to hit, because there won't be many to buy and the ones that do hit will be bid up by the market to similar existing homes. If we do get an uptick in foreclosures, banks may not even bring them to market opting instead to package them and sell them to institutional investors. If they do hit the market, expect them to get bid up just like a regular market sale – no bargains. This is not going to be at all like the great recession.
Well that's it, our predictions for the housing market in 2022. I hope this is helpful. Time will tell if these predictions come to pass. But what could go wrong?
The pandemic continues
Political unrest
Natural disasters
A stock market crash
If you have any questions about the market or are considering buying or selling real estate in 2022, please reach out to us, we are happy to have a no obligation completely confidential conversation with you.
Related Posts