All's Good In The Neighborhood

If you've ever asked a real estate agent "is this a good neighborhood?" you may have received a bit of an awkward reply. Here is why: Your agent cannot in any way engage in discussion or give advice that may steer you to or away from a neighborhood, based on criteria protected under the Fair Housing Act.
For instance, asking your agent if a neighborhood is "family-friendly" may seem innocent enough but that could be construed as 'steering' you towards or away from a neighborhood if they base their assessment on their opinion, no matter how much experience they have with that neighborhood.
Fair Housing and Non-Discrimination
The parameters that constitute discriminatory practices for real estate agents, as well as lenders, landlords, and real estate advertisers, are laid out in the Fair Housing Act, an amendment to the Civil Rights Act of 1968 which prohibits, among other housing-related discrimination, the act of 'steering' clients to or away from neighborhoods based on their race, religion, national origin, familial status, or sex. Additionally, case law regarding the Fair Housing Act has made it clear that advertising a property or neighborhood based on a possible attraction for individuals belonging to one or more of these protected classes, is strictly prohibited.
This means your agent can't tell you which neighborhoods are likely to have more families, members of your religious affiliation, members of a certain race or country of national origin, or members of your sex. The National Association of Realtors takes the rules a step further and independently bans discrimination based on sexual orientation and gender identity as well, though neither is yet federally protected.
So What Can My Agent Tell Me?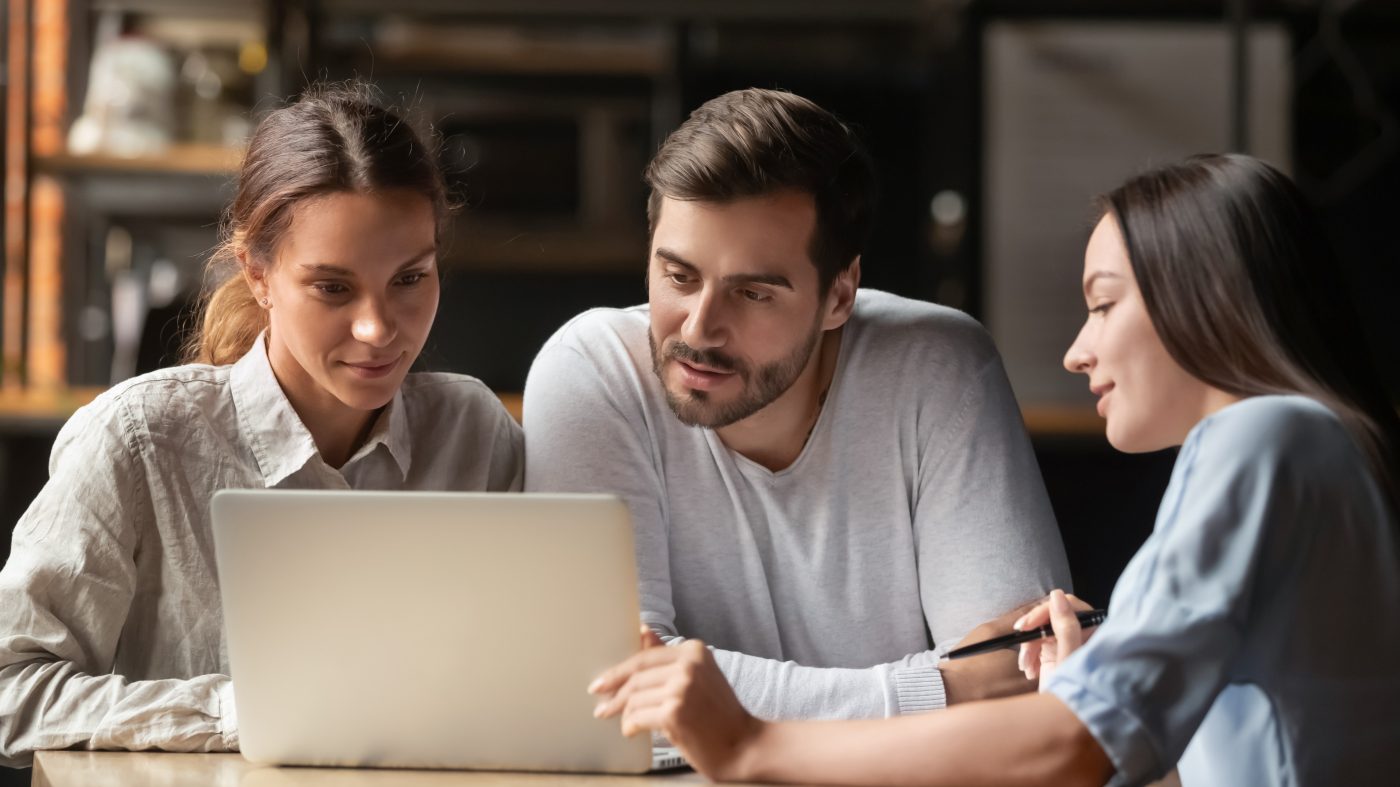 We get it. You want to know if the neighborhood has other kids for yours to play with. You are looking for homes within walking distance of your church or synagogue.
Your real estate agent desires to find neighborhoods that meet your particular interests and lifestyle. However, they must be cautious in how they present neighborhoods to you, regardless of how helpful you feel certain information/advice may be in making your decision.
So what can we tell you? Your agent can point out material facts about a neighborhood that may affect the quiet enjoyment and future sellability of your home. Information such as proximity to local schools, a lack of public transportation, the prevalence of street lighting, or a neighborhood's proximity to industrial areas, train tracks, and farms are all information your agent can discuss with you in accordance with their duties to you as an advisor and fiduciary. Additionally, they may point out the existence of features such as bike lanes, neighborhood parks with a playground, or a little-known hole-in-the-wall restaurant nearby that they particularly enjoy.
What Else Can I Do To Research Neighborhoods?
Luckily there are lots of resources and tools available to help you evaluate a neighborhood to see if it matches your style and to ensure you are purchasing in an area where you'll feel safe, comfortable, and at home.
Neighborhood Reports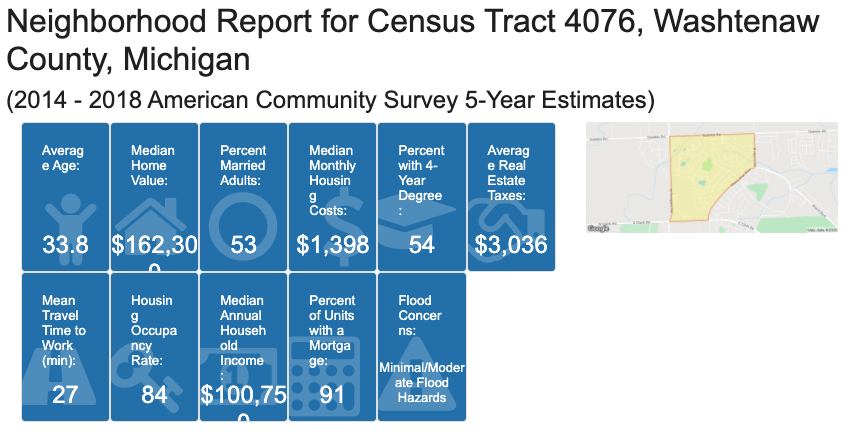 Through the Ann Arbor Board of Realtors MLS, your agent can send you a "neighborhood report" for a community where you may be interested in purchasing. These reports give accurate, detailed, and highly specific information based on publicly available records (census data, tax records, and surveys).
A neighborhood report will indicate the average age of the residents, the percent of married adults, education level, mean annual household income, resident profession data, as well as the number of units rented out versus lived in by private owners.
Helpful Websites
Websites like Nextdoor, Yelp, Neighborland, and social media forums like Facebook allow you to connect with neighbors, learn about neighborhood events, and even share resources! If you are considering moving into a subdivision or community with an active HOA, they may have their own website or a Facebook page with HOA-sponsored event information, pictures, and posts from residents!
Additionally, sites like neighborhoodscout.com, crimemapping.com, offenderwatch.com, greatschools.org, and your local government (.gov) websites all provide crime data that will help you analyze the prevalence of crime, types of crime, and locations of crime in an area you are looking to live. This publicly available data will help you compare local communities and even specific neighborhoods before making the decision to move there.
Take A Walk In The Neighborhood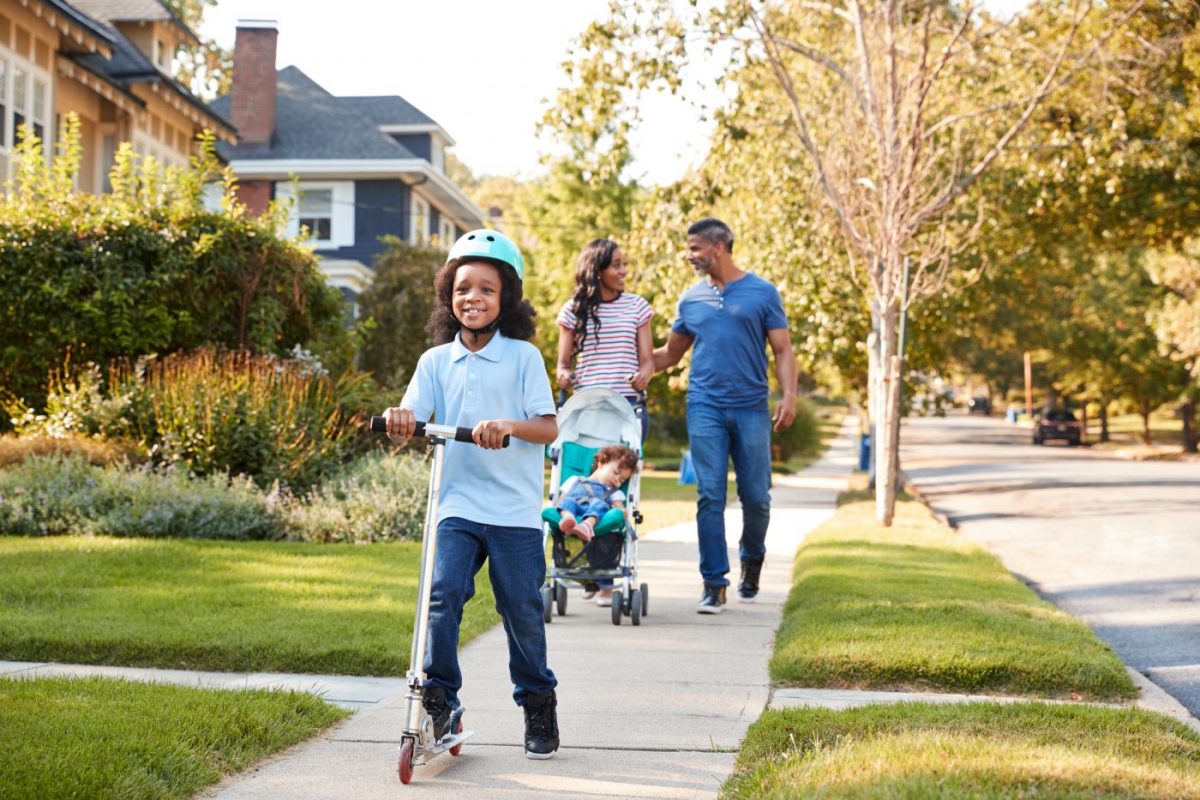 We recommend to our clients that they take some time to explore the neighborhood on their own before deciding to purchase. Go eat at a nearby restaurant, take a long walk down the streets, and even talk to neighbors as you pass by. Keep in mind the aspects of a neighborhood that are important to you, and keep an eye out for them! Are the yards kept up? Is there traffic noise? A dog park? Lots of swing sets in backyards? What about mosquitoes? Any strange smells?
These walks in the neighborhood can help you gain a firsthand, personal, and detailed understanding of what the neighborhood is like as a resident, which will inform you if the neighborhood fits your personality and lifestyle.
Choose a Realtor Who Knows Their Stuff
At the end of the day, your real estate agent is supposed to be your boots on the ground; a local, trusted, and connected advocate that has the information necessary for you to make the most informed decision possible.
Choose a real estate agent whose personality you are compatible with, and who you feel comfortable asking questions to. An honest agent will tell you upfront when answering a certain question may place them in violation of the Fair Housing Act. They will provide you with as much detailed information as possible and will point you towards the resources that will help you get to know the neighborhoods you are comparing before buying. They'll follow the rules and ensure they treat all of their clients with equal kindness and fairness.
Buyer Information Request
Related Posts