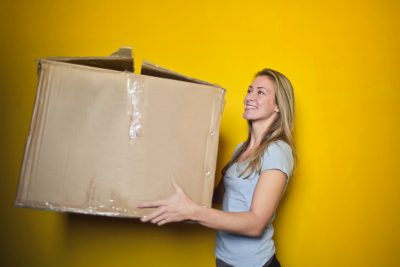 When it is time to sell, don't underestimate the power of the small touches to make a big difference in the look and appeal of your home. It doesn't require a full-kitchen remodel, or adding an entire second story to your ranch, for the lure to capture the next buyer's attention. Sometimes it's the little things that count.
Here are 50 quick ways to increase the value and appeal of your home without breaking the bank:
1. Hire a handyman 
Hiring a qualified contractor will likely save you time, anguish, and money. Yes, unless you are a qualified do-it-yourselfer, it will probably be cheaper to hire someone to do the work than it will for you to buy the materials, tools, and supplies to do the job. Plus, you will have that time available to work on other more important things, like finding your new home, doing your one thing, or simply living your best life! Remember the division of labor?
2. Declutter your home
Pre-pack your out-of-season and not currently needed items. Label the box with the room they came out of, the contents, and the room they are going to if you know. De-cluttering your home will make it look bigger, force you to clean into the corners, and help your potential buyers see the full space and see past your stuff.
3. Donate your unneeded items
There xcellent places to donate your unwanted items in the Ann Arbor area: Ann Arbor Recycle Center, Salvation Army, the Kiwanis Center (Ann Arbor). Make a list of what you are donating and get a receipt when the items are dropped off or picked up for your taxes. 
4. Have a garage sale
You will be surprised how much money you can make with a garage sale. Remember the goal is to clean out – so don't price things too high! If you can, hold your sale at the customary time for your city/neighborhood. Watch the paper for a week or two and you will know. Get ready in stages. As you declutter a room, move stuff to the garage sale staging area. Tag each item with masking tape, or dots. Advertise your sale in the newspaper the day before and the day of the sale. Newspapers offer excellent pricing and can help you with your ads. Don't put your phone number in the ad! Signs. Have a sign at all entrances to your sub, and try to sign with an arrow at each turn. More signs = more business. 
5. Refresh worn paint
A fresh coat of paint makes a big difference! It is easier to paint over a wall or door with the same color. A light coat goes on quickly and will refresh the look of doors and halls. Start with areas that get high wear and traffic or look worn.
6. Neutralize rooms that are highly stylized
You want your buyer to be able to see themselves and their families in these rooms. Especially bedrooms and kitchens. You may need a primer coat to cover dark colors and stenciled paint. Remove or paint over highly stylized or dated wallpaper. Remove posters and decals on doors and in the kids' rooms. Simplify the décor.
7. Reduce or remove family photo collections
These can be distracting. Remember you want them looking at the house; not trying to figure out where you went to high school!
8. Clean or replace the carpet
If you can get away with steam cleaning the carpet, that is great; if it is worn or torn, replace it. This will make a huge difference in the appeal of your home and usually pays for itself. For cleaning, either rent a steam cleaner from a hardware or grocery store or call a professional.
9. Remove excess furniture
As owners, many times we have too much furniture in a room. This is wonderful for our own personal enjoyment, but when it comes to selling, we need to thin out as much as possible to make rooms appear larger. Create a spacious feeling. If it is worn out, give it away or sell it. The goal is to lighten up the look of the rooms and make the traffic areas clear. Less is definitely more when showing your house.
10. Make a great first impression
Remember, first impressions are everything – and home exterior is the first of the firsts! Make sure the front door is clean and operating perfectly. Repair and clean screens, and oil hinges. Replace the door handle and lock if it is tarnished or doesn't work smoothly, and make sure the doorbell works. Often times the porch lights are in terrible condition.  Decent light fixtures are not expensive these days; replace them if they are pitted, broken, or out of style.  Higher quality fixtures can simply be cleaned and will look great again.
11. Clean your front porch and sidewalk
Remember to look up! Get all those cobwebs up on the ceiling. Use a hose attachment and clean the siding and concrete on the porch. You may want to power wash the siding but be careful – if not done correctly, you can etch the siding. (Good item to put on your contractor list!)
12. Keep kitchen counters clean and clear
Take everything off of your kitchen and bath counters. Clean them thoroughly. Then put back just a few things. Suggest the functionality and enjoyment of cooking in the kitchen, and in the bathroom use candles and colorful or fancy soaps.
13. Clean and adjust all kitchen and bath doors and drawers
Make sure all doors and drawers are aligned and operating properly. Make sure all handles are tightened. Use the correct cleaners for our cabinet surfaces and clean them inside and out. High use cabinets will need extra attention.
14. Hire a qualified stager
A good stager will have a very high level of attention to detail and will give you honest feedback that your friends and family may spare you. It could make the difference between really wowing your prospective buyer or your home settling in the middle of the mix.
15. Replace the towels in the bath
Get large and contrasting smaller towels and washcloths. Fill the towel bars, and put a stack of towels nicely folded next to the bath. An easy upgrade, fresh towels suggest luxury, relaxation and help your buyer begin to picture themselves enjoying your home.
16. Clean the grout and caulk the tub and shower
Yes, this is a pain and yes, this is absolutely critical! Nothing is more important than a perfectly clean, gleaming bathroom. Absolutely no mold or mildew, no gaps in the caulk. There are tile cleaning and whitening products available at home stores that will do wonders for you. Hire it out if you need. It will make a difference. Remove rust stains if you are on a well. Replace tarnished faucets, towel bars, etc. Bathrooms need to sparkle!
17. Replace the shower curtain
Coordinate with the towels. These are inexpensive and will make your bath seem cleaner and fresher. Simple and cheap — do it!
18. Touch up scrapped and worn wood cabinets
Use Old English scratch cover on scratched hardwood cabinets, doors, etc. This will drastically improve the condition of your woodwork.
19. Follow your nose
A home should smell good. That means no noticeable odor — no pet scent, no stale cooking smells, and no cigarette smoke. People who smoke or have pets become so accustomed to the smell, they don't notice it.
20. Avoid eccentric decor
De-personalize your teenager's room, the game room or other areas by removing wild posters or any decorative items, from hanging beads in doorways to jars where your children store their spider collections.
21. Fertilize your lawn
A healthy green lawn adds to curb appeal and curb appeal helps sell homes.
22. Plant flowers and mulch the flower beds
Buy potted plants or hanging baskets, or flats of annuals. Stick with a color theme.
23. Clean all glass light fixtures and make sure all the bulbs are working
Add light whenever possible. Add more lamps, or use larger wattage bulbs and make sure your bulbs match with similar wattage and color temperature (make sure to stay within the wattage limits of the lamp and your electrical circuit).
24. Clean all the windows and sills
This will make a difference in the amount of light that comes into the house and has a positive, energizing subconscious effect.
25. Put up simple blinds and window topper treatments
Bare windows are boring. Simple blinds and fabric window treatments add texture and color to a bedroom. Window treatments create instant character. Tie in colors of bedspreads and toss pillows into top treatments.
26. Suggest Functionality
When you hold your open house, can people see how a room functions and picture themselves enjoying living in that room? If you have a nice backyard with lots of birds, layout binoculars and a bird book. In the kitchen, put a cookbook on a stand. In a family room perhaps a stack of games on a game table. Show how your family made the house a home.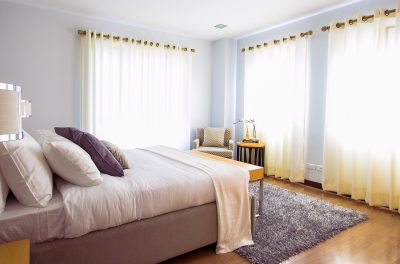 27. Make sure sight lines offer a visual reward
Use pictures, and real or artificial flower arrangements to offer visual interest along sight lines. Be careful you don't overdo it, or it will look like clutter.
28. Thin out books on a bookshelf
If your bookshelves are full, pack up about half of the books and decorative items, then organize and clean the books to create an interesting and orderly presentation. Packing tip – use 12 by 12 boxes for books. Anything bigger becomes too heavy. If your books are precious, wrap them individually with bubble wrap.
29. Thin out your clothes and closets
Pack away your seasonal clothes and give away things you haven't worn. Show your closets as being ½ full. Also, painting a closet will make it seem bigger and cleaner! If you are painting it the same color, you don't have to worry about cutting in and the job will go a lot faster.
30. Replace or repair any leaking faucets and toilets.
31. Replace the hardware on your kitchen cabinets
If your cabinets are plain or drab, nice hardware will give them extra life! The home centers have a good selection or you can go to a specialty kitchen cabinet store.
32. Look UP
In the basement, vacuum the ceiling to get ALL the cobwebs, even the ones between the joists above. If the light fixtures are dirty and have dead bugs, remove the glass and clean them out. Perhaps replace cheap light fixtures with nicer dome glass fixtures. This can add a lot of perceived value for about $20 to $50 per room. The key rooms to address are the foyer, upstairs hall, and kitchen.
33. Upgrade your appliances
If it is within the budget, consider purchasing energy-efficient appliances. This will save you money on utilities while you still live in the home, and will appeal to more buyers for a higher sale price.
34. Add area rugs
If a room is empty, or the house is vacant, area rugs can help make a room feel more homey and warm. It also pulls the eye down to the floor and helps people feel how the flow of the home will work.
35. Choose your focal point
Whether it's a fireplace, TV, or piece of art, arrange your furniture around a standout centerpiece. Try to place your furniture pieces close enough together so that you have a warm, intimate feeling as you and your family or guests are seated. Add pillows and throw blankets to accessorize.
36. Change out your doormat
Plop a new, colorful welcome mat in front of the door.
37. Clean, paint, or polish your house numbers
Make sure your street numerals are polished and in place and readily visible from the street.
38. Remove any out-of-season decorations
Instead, place a relevant, seasonal wreath or arrangement on your door.
39. Thoroughly clean all your appliances
Including the inside of your oven and microwave. Clean the wall and fan above your stove. Goes without saying!
40. Clean your fireplace
Clean, adjust and lubricate your fireplace doors. Soot will come off readily with soot removal and newspaper. Touch up fireplace door or interior with high temp fireplace paint if necessary. If your fireplace smells, have the chimney cleaned. Open the fireplace doors, place logs in the grate, and a basket of firewood on the hearth. Buyers should be able to imagine themselves using this fixture.
41. Trim the bushes and mulch the beds
Your yard is important too. Whether overgrown bushes are covering up front windows, reducing light into the house, or have just been neglected over the years, a good trim will really clean up your presentation. Add a layer of fresh mulch and don't skimp. Edge the lawn too!
42. Manage Noise
If your house backs up to the highway or there is a lot of environmental noise, consider timing visits during quiter times. If this isn't possible, a small water garden makes a pleasant, relaxing sound as water spills over rocks. Place on a patio table.
43. Clean and seal your wood deck
Yet another cleaning project that produces a big subconscious effect on your buyers and a payoff to you. Deck cleaners will remove the grey color from the wood; sealing will make the deck look newer. Put it on the contractor list if you need!
44. Show people how you use your patio
Clean the grill, and get a new cover for it! Clean the patio furniture, throw a new, in-season tablecloth on, have a tray with a stack of plastic tumblers and a pitcher sitting out, and replace the chair cushions if they are worn, mildewed, or heavily faded.
45. Clean your furnace and water heater
Too often basements are dark, dusty, and dirty. Why not stand out in this area? Dust these items down with a damp rag, remove cobwebs and replace the furnace filter. Make sure to put in a bright light bulb. Your home inspection will uncover any problems, but clean always suggests good maintenance to your buyers. Painting your concrete floor in a utility area will make a plain basement look clean!
46. Hire a High School Kid
High schoolers will they appreciate the spending money, and they will also work for much less than a handyman or cleaning service. Make sure to supervise them. Be specific on what you want and how long it should take to accomplish the task. Don't skimp on cleaning supplies and materials. You will get a better result!
47. Hire a cleaning service
If your home will be vacant, hire a cleaning service when you move out to give the place one more thorough cleaning top to bottom. Consider hiring a window washing service to do your windows. If your home will be vacant for an extended period of time, have the cleaning service come back regularly to make sure things stay in good condition.
48. Power wash your siding
If you live near a highway, or on a dirt road. Even if you don't, your siding gets dirty and dingy with time. Hire a company or rent a power washer and clean it up. Again, curb appeal sells houses!
49. Do a final walk-through 
Before any buyers view your house, do one final walk-through to see if you've missed anything. Try to look in each room as if it's your first time seeing it. What stands out? What could be improved?
Tap into our 20 years of experience in preparing homes for the market to maximize proceeds for our sellers. Contact us for a free pre-listing consultation and home valuation analysis.
Contact Us
Related Posts