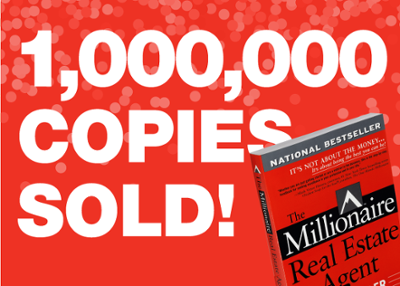 When Gary Keller first fired himself from the position of CEO of Keller Williams all those years ago to write a book about real estate, even he couldn't have predicted the impact it would have on the industry as a whole. The Millionaire Real Estate Agent, or MREA, revolutionized real estate, and today the models and systems detailed in the book serve as the cornerstone of Keller Williams associates' businesses.
Over a decade ago, Gary set out on this journey with the help of two co-authors. Dave Jenks, who previously collaborated with Gary on the development of Keller Williams' educational courses and agent masterminds, was a valuable source of industry knowledge. Jay Papasan, who was poached from another department within the company, provided his extensive experience in the publishing industry along with a dedication to writing. Together, the trio of authors made it their mission to change the way people think about the real estate business.
Once they got to work, the book came together quickly. Drawing on their cumulative knowledge and numerous interviews with some of the nation's top real estate agents, Gary, Dave, and Jay were able to complete their first draft within 90 days. The book challenged industry norms and pushed forward the notion that real estate agents are in fact business owners, with proven models for achieving and replicating success in any market.
Putting a tight ribbon on top of their final drafts, they sent the manuscript to a number of publishers who rejected the book on the basis that the market was too small for the risk. But this did nothing to shake their conviction that they had written a book that would benefit many. Gary and his crew decided to self-publish the book and quickly sold nearly 100,000 copies, giving those publishers reason for second thoughts.
The Millionaire Real Estate Agent is a step-by-step, actionable guide on how any agent, whether just getting started in their career or an experienced veteran, can earn and net a million dollars in annual income. The MREA teaches a specific roadmap to success, using four models that are essential in building a successful career in real estate.
Over the last 14 years, the book has proven itself to be the industry standard for putting real estate agents on the path to success. The message and vision of MREA has been expanded by the countless number of people who continue to live and teach it every day. The PiperPartners Team regularly relies on the MREA in order to provide guidance for the way our team does business.
If you're thinking of starting a career in real estate, and want to learn more about the MREA, give us a call at (734) 845-9700. Andy Piper or anyone else on our team would love to talk with you about the book and how we use it.
Related Posts