A huge thank you to those of you who turned out for the Piperpartners' second annual Client Appreciation BBQ on Sunday, July 30th at County Farm Park in Ann Arbor, Michigan.  We were honored to have nearly 100 people join us – clients, friends and family –  and THE most perfect sunny, mid-80's day possible!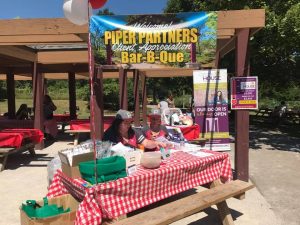 Great to see you! Sorry, we missed you!
To those who madeit, we thank you! It was great to catch up and visit. To those of you who could not make it, we missed you!  We will be sure to invite you again. Next year's client appreciation picnic is already set for the last Sunday in July 2018! We will be out at one of Ann Arbor' about it well in advance.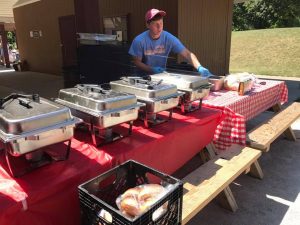 The highlight of the day was seeing so many friends, clients,and family members and honoring Ozone House for the important work they do in our community. Thes finest parks and we will be sure to let you knowgoal was to relax, have fun, eat Satchel's BBQ, listen to music, play games, and get to know each other just a little bit better. I think we achieved that!
Allie Schachter, Marketing Director for Ozone House, was present and shared the majority of her afternoon with us explaining the work that Ozone House does in the community. Many people were hearing about Ozone House for the first time, unaware of their mission and work. Allie shared some success stories and explained how they help runaway, homeless, and at-risk youth with counseling and housing services.
We were thrilled to announce that Piperpartners raised over $3,800 for Ozone House, exceeding the goal of $3,000 set one year ago. For 2018, our goal is to raise over $5,000! Piperpartners raises money through direct donations made on our website donation page and through contributions made on behalf of our clients when we close a real estate transaction. Additionally, we create awareness and leverage more support for the organization through our marketing channels: our blog, website, and client database.
"Giving freely and unconditionally is a powerful way to create abundance in our lives. Giving with a grateful heart opens us up to receive and brings us joy-filled contentment for having helped others. It is a natural law no different than the law of gravity. When we help others, we help ourselves."
Our Thanks to All of You
We are truly grateful to you – our past clients – for allowing us to help you select and purchase, or sell, a home. In preparing for this event, we reached out to as many of you as we could. While making those phone calls, we got to catch up with you and hear about families growing up and people enjoying their homes. We truly love this work and it is great to hear that what we do helps you live a better life.
Mark your calendar for Sunday, July 29, 2018!
~Andy
Related Posts