Eat Local. Support Small Business
We love supporting local businesses and are conscious that they are truly irreplaceable. They offer unique, culturally authentic, and locally sourced options that you won't find from their corporate counterparts. Plus, they are owned, operated, and passed down to new generations by members of our community who deserve our support during this trying time. That is why when our team goes to lunch, we try and #eatlocal.
Here are a few of our favorite, irreplaceable local lunch stops that we encourage you to check out on your next Ann Arbor lunch run!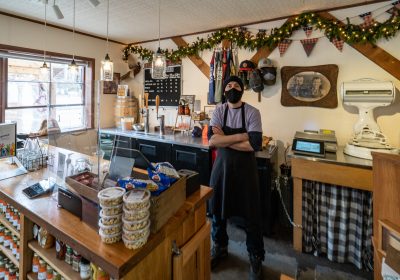 One of Ann Arbor's little hidden gems, Biercamp is located on south state street just past the produce station heading south and within walking distance of our Keller Williams Realty office. You can order to go or enjoy their heated outdoor seating. Try the Steamship Round Brisket sandwich and a glass of rootbeer or maybe an IPA. This is a huge win for the Piper Partners team in the summer because it means we can pick up a cold glass of rootbeer and an excellent sandwich, kielbasa, or smoked sausage within minutes!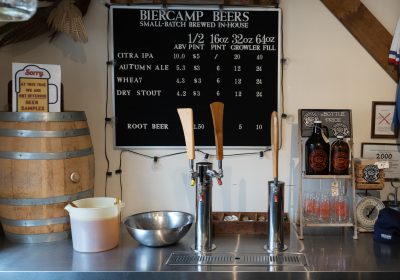 Known for their homemade artisan German fare, most notably their cured meats, smoked sausages, and jerky, Biercamp is a restaurant/microbrewery/mini grocery store combo and the perfect place to pick up lunch! Their service is always quick, their staff is friendly, and they currently have multiple options for pickup including ordering online for car-side to-go, an outdoor pickup window, and outdoor heated dining as well.
A restaurant like Biercamp is truly one of a kind. Owner, Walter Hansen says "we make everything by hand in small batches using our favorite unique ingredients & treasured family recipes. We only work with farms where animals are raised naturally & humanely using no antibiotics, hormones, growth-promoting drugs or artificial ingredients. We grind all our meat fresh & all smoking & curing is done in-house."
Where else can you pick up a backwoods brisket sandwich that was smoked for 16-hrs in-house or a chicken mango jalapeno bratwurst?
Click here to check out Andy's Facebook live walkthrough of Biercamp!
That's right, the late-night burrito joint long raved about by UofM students as a THE spot to fill up after a late night at the bar makes our list of local businesses to support for lunch!
A great place to get a burrito to last one, two, and maybe even three meals, BTB prides itself on trying to attain burrito perfection, a goal they've been reaching for since 2004 when they were founded by UofM grad Adam Lowenstein and his buddy Justin Herrick!
If you're not into burritos, choose from an assortment of quesadillas, chimichangas, nachos, or fill up on a full order of the best chips and queso in town!
BTB is quintessential Ann Arbor. A local success story that lives on in the hearts of UofM grads everywhere. They've recently moved locations and can now be found on South University where they have a "carry-out bar" out front of Good Time Charley's!
A family-owned and operated restaurant since 1987, Jerusalem Garden delivers a little slice of Palestine to the heart of Ann Arbor. Eat there once and you'll know why Jerusalem Garden is often touted as the best Middle Eastern restaurant in town! Their food is fresh, authentic, and the service is great!
Grab some Falafel with Hummus to start, have a Shawarma for your main course, and take home some baklava for dessert!
Middle Eastern Chain restaurants are on the rise, but ask anyone from the region and they'll tell you that they don't hold a candle to the real thing!
---
Do you have a local lunch spot that you think we should check out? If so, let us know in the contact form below or shoot us a call, text, or email anytime. We are always looking for new businesses to support as we try to be active, conscientious, and caring members of our community!
Contact Us
Related Posts