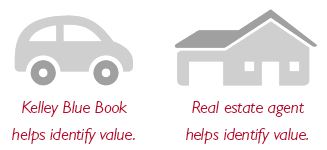 Have you ever sold a car and consulted a website such as Kelley Blue Book to determine its value? The software tracks recent sales of cars of the same make and model and then provides a range of values based on relative condition. This makes it very easy for you to price your car so it sells.
Similarly, The PiperPartners Team studies the real estate market every day and we are able to provide you with a range of values for your home that will ensure it sells. This is referred to as the market price, that is, the price the market will bear. To determine the market price, we will study similar homes in the same or close neighborhoods that have sold recently to determine an accurate range. These are referred to as "comps" or comparables; homes that are comparable to yours.
However, do not be fooled by the listing price of other properties currently for sale near yours, as this is not an accurate reflection of what buyers are actually agreeing to pay. Heed the advice of your agent when you make the final decision on pricing your home.
When you choose to price your property above market price, there is a strong chance that your house will take longer to sell. In fact, research tells us that for every percentage point above the suggested list price, the house will spend approximately 5 more days on the market. The PiperPartners Team has the local market expertise to understand how your market differs from national stats.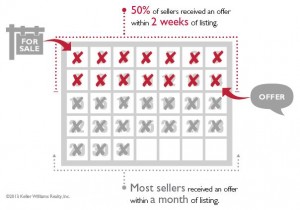 Offers, Options, and Negotiations
We represent you along your entire journey and earn our pay when it comes to offers made, options requested, and other sticky negotiation points. Their experience and knowledge is critical to not only getting your property sold, but getting it closed!
Don't be surprised when buyers ask for certain concessions or incentives. Be prepared by knowing the common things buyers ask for in the negotiation process. Over one-third of buyers ask the seller to reduce the price, and nearly one-third ask for help on closing costs. In fact, when sellers agreed to pay closing costs, more than 75% of sellers pay up to $5000 in closing costs.
Negotiations
Your ultimate goal is to get your house sold quickly for the most money and least hassle possible, and I will assist you in getting there.
Most agents are negotiating on behalf of their sellers to get slightly less than what the property was listed for; 99%. And 75% of properties are on the market for on average 76 days. However, in a sellers' market, a property may be on the market for only one day! Again, condition and price will determine how quickly your property sells in any market.
To find out the value of your home or just find out the answers to some of your questions, call The PiperPartners Team at (734)845-9700 or email us at service@piperpartners.com.
Related Posts