Interior Appeal
When your house is decluttered and unpersonalized, buyers can envision themselves there. Put yourself in their shoes–would you want to buy a used car that is covered in crumbs, dog hair, and sticky goo from an old spilled soda? And would you buy a home in similar condition? Probably not.
The answer is staging; cleaning up and presenting the property at its best. Nearly one third of all sellers stage their property to position it well. Another benefit of staging is how much better your marketing photos will look. 9 out of 10 buyers now look for homes online, and photos that showcase your property in the best possible way keeps buyers coming through your door.

What this means for you: Staging is a quick and inexpensive technique for getting your property sold more quickly and for more money.
Staging is Effective
Compared to non-staged houses, staged houses had more showings scheduled, spent less time on market, and sold for higher prices on average.
What this means for you: Your house may not need much cleaning or decluttering, and it doesn't hurt to get advice from an unbiased third party. Carefully consider who you choose to make staging recommendations. A professional stager, paid for by you, may be a wise investment. Ask a real estate professional for advice. Also, visit other houses for sale in your area and seek to make your house stand out from the crowd.
Rooms to stage
Use staging to highlight the most lived-in rooms of the house. The living room, kitchen, and master bedroom are where buyers will spend most of their time, so make those impressions count.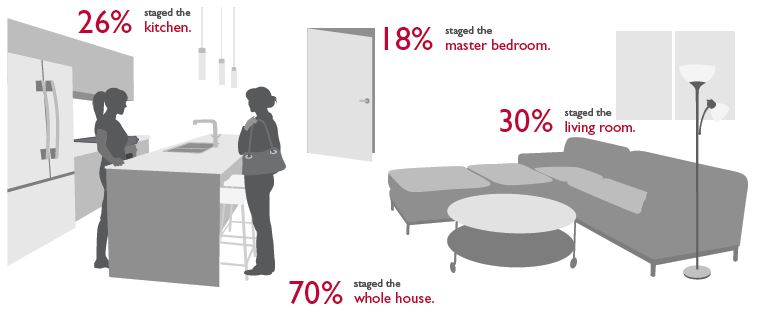 Cost of Staging
Staging need not be hard, time consuming, or costly. While the average cost of staging is $644, 50% of those who staged spent $300 or less. At a minimum, staging may consist of boxes for all the extra 'stuff' and rearranging what you already own.
What this means for you: Spend your dollars wisely when it comes to improving your home's interior to appeal to buyers. Stage the most popular rooms first and keep costs down by doing simple rearranging, cleaning, and decluttering. If you haven't touched it in 30 days, pack it up and remove it.
Updates
A fresh coat of paint can completely change the feel of any space from 'eh' to 'ahh.' There are a few high-impact updates that might be worth considering for your home depending on its condition, price point, and competition. I can help you determine if any of these popular updates are right for your property.

Repairs
One in three sellers knows there's a problem that is bound to come up under the inspection, such as a leaky faucet, stuck window, or worn shingles. It can be a good idea to make these kinds of repairs before putting the house on the market.

Should You Have Your Property Inspected for Condition?
It's smart to have your house inspected before you list with an agent. You will know exactly what action to get the house in great condition. Ask The PiperPartners Team about getting your house "pre-certified" and pre-appraised. This assures you and your buyers that there will be no surprises on those items.
Related Posts