2017 was a year of significant growth and change for the Piperpartners team. At the end of the year, Piperpartners is a smaller, Ann Arbor area real estate team that is dedicated more than ever to our defined mission and vision and values. We are ready to go for it in 2018 and do what it takes to serve more than 110 home sellers, buyers, and investors, with a goal of serving 200 families in the year 2020.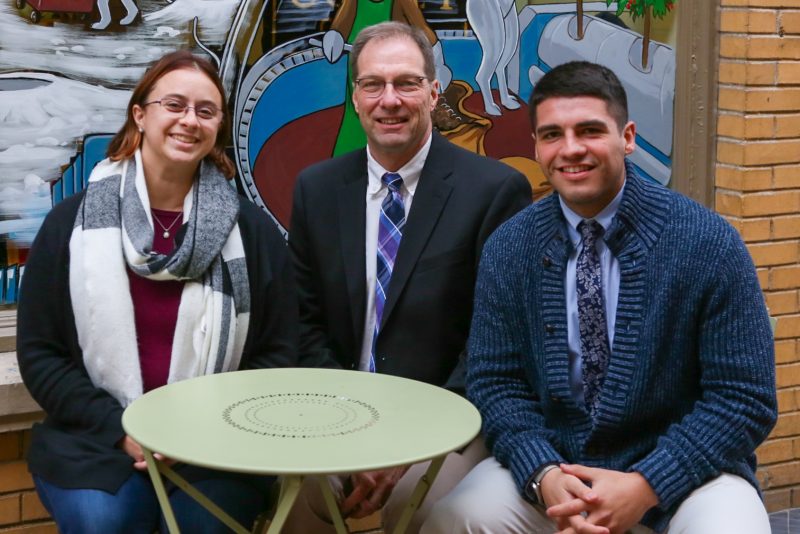 Notable Accomplishments in 2017
We helped 90 families sell or buy a home, or invest in real estate in the Ann Arbor area!

Team total sales were $19,758,000, up 13%, while sales for the entire Ann Arbor Board of Realtors was up 5.8%.

For 2017, The Piperpartners Team ranked in the top 5 percent of all agents/teams in the Ann Arbor Board of Realtors.

Team average price of our sold listings increased by 35% to $284,428.

Team average days on market for our listings was 20 days, as compared to the board average of 36 days. That's 80% better than the board average.

During 2017, we donated $5,100 to our designated community service organization, Ozone House.
Many people (my wife, for example) ask me why I bother with this "team" thing. They say, "Why don't you just hire an assistant and sell by yourself? You would have lower overhead and it would be a lot fewer headaches."
That's a great business model and the traditional agent model in real estate. This model should continue to work for at least several more years.
However, the business is changing very quickly.  Now, more than ever, the real estate business is a technology business. In the past, an agent with a good network could make a great living serving their group. In the future, agents and teams that have great systems for connecting with new clients online, swift and efficient administrative systems with advanced systems for client acquisition and development, document handling and communication, training, and marketing will have a clear advantage.
I can see the day when a few teams and brokerages that have the best and most cost-effective systems taking a larger piece of market share. They will be able to provide more competitive commission rates and offer a higher level of service to their clients than single agents can.
Additionally, to attract and retain the very best talent – not just sales, but technology and administrative talent – we will have a mission and resources big enough for these people to see themselves succeeding within our group.
The Beliefs that Will Help Put Us Among the Top Teams
Our Team Perspective
We are in charge of our own destiny. We define our short, medium and long-term goals both personally and professionally, and review them regularly to stay on track. In order to achieve our goals, we need to master our craft. Our work serves our defined goals.
We are innovative. We approach each problem individually and in a fundamental and creative way. Our solutions are better, faster, cheaper, more profitable than the competition's and they allow us to have more fun doing our work. This gives us a competitive advantage in the marketplace, allowing us to better serve our clients and to live better lives.
We are learning and training based. We have a deep responsibility to be trained and knowledgeable in order to help people make the very best, informed choices and real estate decisions. We seek out and provide access to coaching and training that is not available anywhere else. We build skills and habits that improve each of our lives and the lives of those we serve. We learn, train, and practice our craft daily.
We support the communities we serve. We give generously. We provide service, build awareness for and give financial resources to organizations that serve those in need in our community. We believe this energizes us to do better and more productive work, improves our community and creates value for all.
The other reason why I pursue the team model is sort of selfish. To be my best, I need a challenge, and the real estate sales business is it.
I have identified these four activities that, when committed to and practiced daily, will allow me to create a great real estate business and also live my happiest, healthiest, and most prosperous life possible!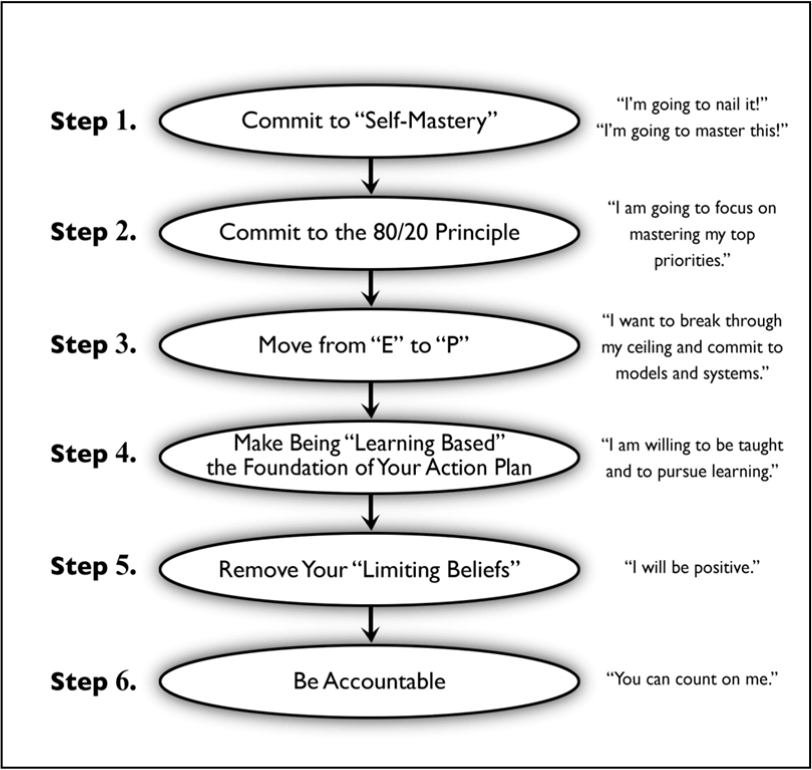 Live the six 6 personal perspectives

. 

Commit to self-mastery.

Commit to the 80/20 principle.

Go from E to P.

Make being learning based the basis of my action plan.

Think without limits.

Be accountable.

Build great relationships

. Everything great happens through other people. Search for and network with talent and create great relationships. Develop and practice good listening skills and always be kind. Surround myself with the five people I want to "become". Give generously to those around me. Develop deep, meaningful relationships with friends and family.

Strengthen my personal and professional mission and vision.

Work on and review my mission and vision roadmap regularly –  What is the highest work I can do? How am I most satisfied in my heart? Maintain a written document that is shared with those most important to me. Set someday goals bigger than what I thought possible – "AIM HIGH". Work backward to get to the action I must take next. Be accountable to the plan.

Master the residential real estate business

. The residential real estate business is my vocation and creates wealth for myself and our team in exchange for the great service we offer our clients and employees.  Do the work of real estate at a high level every work day: Find new prospects for listings and talent, follow up systematically, negotiate contracts, train and practice. Understand and follow the models. Clearly know each person's role on the team and hit our defined objectives.
All the work I do flows from my heart and is aligned with my mission and vision for myself, my family and my real estate team. When I do this, I am living my most meaningful life possible.
If you have read this far, you are aware that I think a lot about this. For 2018 my mantra is FOLLOW THE PLAN! 
We would be honored to be apart of your family's plans to buy or sell a home in the coming year.  Reach out to us and let's get into a conversation about your needs and desires for moving and see if we help.
Thanks,
Andy
Contact Us
Related Posts