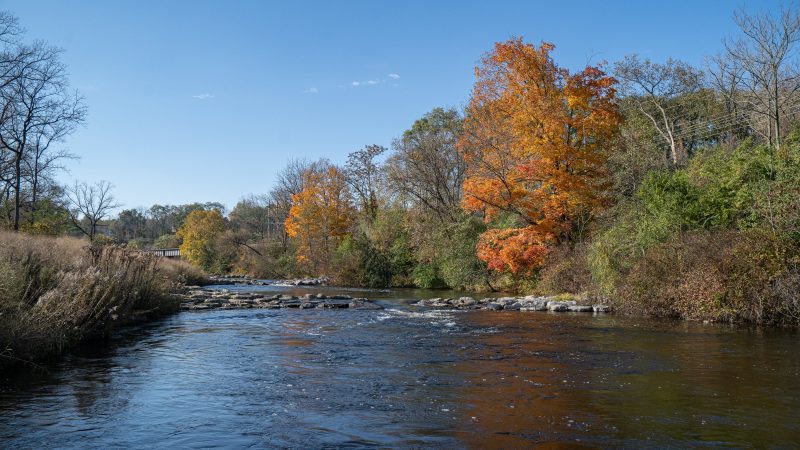 If you're thinking of moving to Ann Arbor and are looking for some boots on the ground intel, in this blog I'll tell you what I love about Ann Arbor and also a few things that I'm not so crazy about.
I have lived here since 1996, my wife and I raised our three children here, and my team has sold over 1,000 homes in the Ann Arbor and surrounding area. Based on that experience, here are my top pros and cons for living in Ann Arbor.
Pros
#1: The Vibe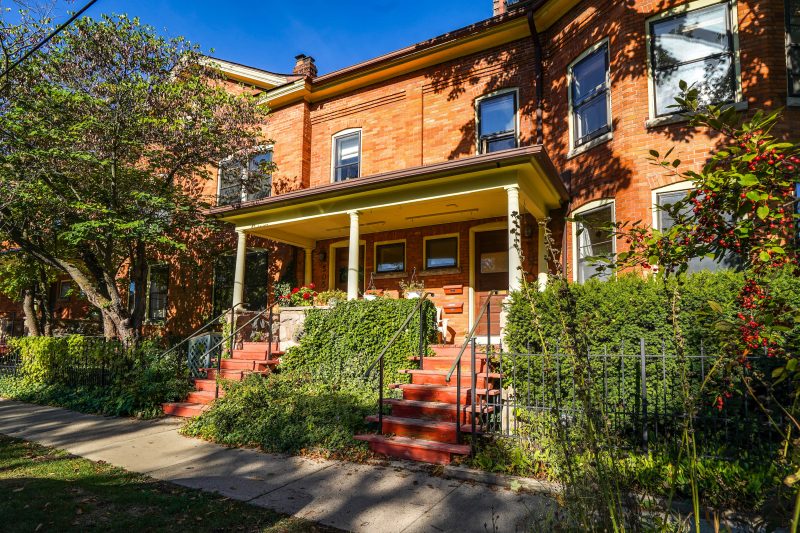 The first pro is what I call "the Ann Arbor vibe". Community leaders talk about placemaking – well Ann Arbor really has this sense of place and when you are in Ann Arbor, you feel it. Downtown Ann Arbor is home to four distinct commercial districts – Kerrytown, Main Street, South University, and State Street districts, each with unique and diverse shopping, restaurants, and housing.
Then, there are the University of Michigan campuses – central campus, with its' classic buildings and mature grounds; the huge and ever-growing medical campus; north campus with its many newer contemporary buildings; and, of course, the athletic campus with the U of M stadium also known as The Big House.
The neighborhoods range from the highly walkable Old West Side, Kerrytown, and Burns Park areas, to estate neighborhoods with larger homes on acre lots such as Ann Arbor Hills and Barton Hills, to plenty of other neighborhoods all wrapped around 20 elementary schools which are part of the top rated Ann Arbor School District. These, and lastly, Gallup Park, are just a few of the areas in Ann Arbor that can create beautiful memorable experiences for people.
It's no wonder that people move back here to live. I regularly hear people say to me, "I went to school here years ago, and when I come back I really love the special feeling this town has."
# 2. Ann Arbor is a 20-minute town
Ann Arbor is kind of a goldilocks town – it's not to big, and it's not to small. Around 120,000 people live in Ann Arbor. Overall, it's very easy to navigate and you can get anywhere you want to go in about 20 minutes. From the edge of town, you can get downtown in about 10 minutes.
If you are coming from a larger metro area, you are going to find this refreshing. You don't have to leave Ann Arbor if you don't want to, and many people don't! We do have a mini rush hour, traffic congestion and there are areas that you will learn to avoid at certain times. You may want to avoid living near some of these areas as well.
In addition to the short cross-town trip, Ann Arbor is located within 2 hours of my favorite Lake Michigan beach. You can get to Detroit in 45 minutes, and to downtown Chicago in less than 4 hours. You can easily access the Detroit Metro Airport in 30 minutes.
#3. Ann Arbor is a diverse town
Ann Arbor attracts people from all over the world. It's by far the most culturally diverse community I have ever been a part of. Additionally, people here are educated. Ann Arbor has been named the most educated city in the US. 53 percent of the people in Ann Arbor have a bachelor's degree and it has the highest percentage of people with graduate or professional degrees.
Ann Arborites are open-minded and inviting toward other cultures and you will find interesting people with different perspectives. You'll also find diversity in the food options, including restaurants and grocery stores.
#4. It's pedestrian and bike-Friendly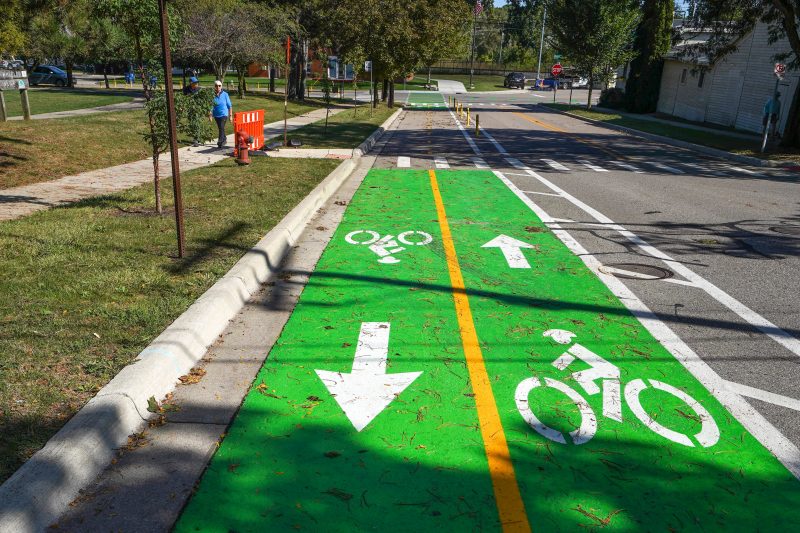 Ann Arbor is safer for walking and biking in town than most cities. We have 475 miles of sidewalk, 57 ​miles of shared-use ​paths, and over 157 parks to enjoy on foot.​ In fact nearly​ 15% of Ann Arbor residents walk to work. That's more than 6 times the national average. Ann Arbor takes the view that roads are for pedestrians and bicyclists too, not just for automobiles. They have worked hard to make sidewalks ADA compliant and have received awards for being pedestrian-friendly and bike-friendly. You'll find that the sidewalks and bike lanes are well designed and maintained.
#5. It has great public schools and libraries
Ann Arbor is known for its great public school education system. Since there is so much info about the schools online, I am not going to go into that here. Suffice it to say, they have a lot to offer. I always suggest people visit the schools that their kids will attend and meet the administrators, and even sit in on a class if possible.
The Ann Arbor District Library System, or AADL, is one of just a few libraries in the country to earn five-star ratings in each of the past 14 years (by the Library Journal). There are 5 very unique library branches and a great inter-library loan system that make the Ann Arbor libraries easy to use for people young and old.
#6. It's arts and music culture
Ann Arbor is home to the largest juried art fair in the country, featuring over 1,000 artists and a footprint spanning 30 city blocks. Ann Arbor is also loaded with great venues for music and entertainment. Hill auditorium, the Lydia Mendelssohn Theatre, Kerrytown Concert House, the Ark, and others, offer beautiful listening spaces for world class music. And let's not forget The Blind Pig: founded 1971, The Blind Pig started as a blues venue, before bands like Soundgarden, The Smashing Pumpkins, and Nirvana got their start there. Now they book everything from alternative, to rock, to metal, to funky jambands. Lastly, every summer Ann Arbor residents can see live musicians and movies outdoors at Top of the park.
#7. Parks and Recreation
Ann Arborites value parks and beautiful green space. Here are a few of my favorites: Gallop Park, Matthaei Botanical Gardens, the border-to-border trail, The Arboretum and Peony Garden, and anything along the Huron River. If you like to walk, run, road or trail bike, kayak, swim, or even skateboard and play ultimate frisbee, Ann Arbor has you covered.
#8. A resilient economy
Ann Arbor is relatively recession-proof. Its top employers are the University of Michigan, St. Joseph Mercy Health Systems, Veterans Association (VA) Ann Arbor Healthcare, and the Ann Arbor Public Schools. After that, automotive tech, high tech, etc., are major players in the workforce. These are basically education and health care, which are two very economically resilient industries! You can expect that Ann Arbor is and will remain one of the most resilient economies in the state.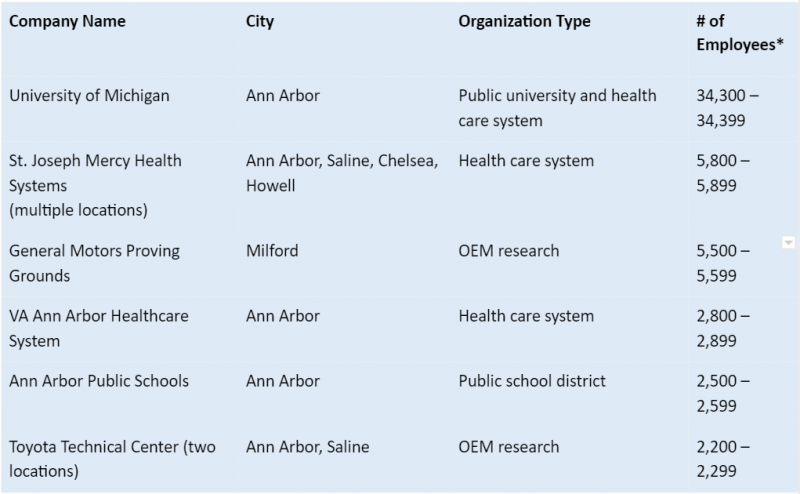 What about the cons? Just to balance things out a little, here are some cons to living in Ann Arbor:
Cons
#1. A relatively high cost of living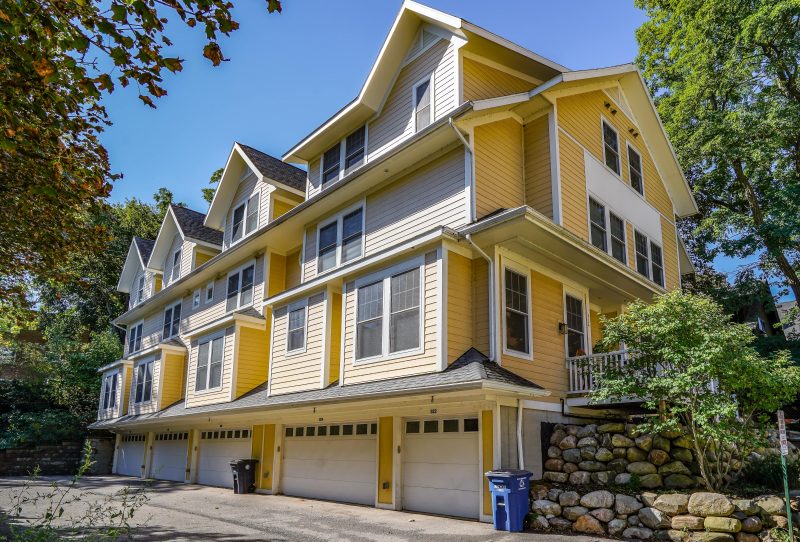 Housing prices, high property taxes, eating out, gas… everything generally seems more expensive. I especially notice this when I visit other towns in Michigan and across the country. Not to mention Michigan auto insurance has some of the highest rates in the country.
Due to the higher cost of living, lower wage workers can't afford to live here. Service workers, young people just starting out, and others, cannot afford the average rent in Ann Arbor. This also makes it tough for restaurants and other businesses to find and keep talented workers. Living in downtown Ann Arbor can be as expensive as living in many major cities!
#2. There's not enough housing inventory
Ann Arbor is simply short on great housing options. It has always been this way, we just have limited options and styles of housing available in the area. Unfortunately you have to deal with what is available. And, know that the shortage is critical for housing under $300,000. If you want a single-family home priced under 300k, you have your work cut out for you. Realistically, if your price point is under 300k for a single-family home, you'll probably want to look in nearby townships and cities to get the amenities and spaces you need for under 300k. Start with Ypsilanti and Superior townships, which are only a short 15-20 minutes from downtown Ann Arbor.
#3. Game Day and Art Fair Traffic
And minor rush hour traffic. You have to plan your life around University of Michigan Football game day and art fair traffic. People who live here are used to it, but if you are new, you could find yourself caught in some pretty slow traffic. The highways and main roads will be completely stopped or even blocked off during these times. Be aware of these events and plan accordingly. Regular rush hour traffic is pretty minor, but people like to complain about it. I don't find it to be a problem.
#4. High property taxes
Washtenaw County has nearly the highest property taxes of all counties in Michigan, and Michigan property taxes are already amongst the highest in the country. Property taxes in the City of Ann Arbor are about 25 percent higher than those in nearby townships. But, are you moving here because of low property taxes? I doubt it. If lower property taxes are important to you, consider living in nearby Pittsfield or Ann Arbor Township… IF the benefits of living in town are not critically important to you.
#5. Public transportation could be better
If you read Reddit or Quora, people are generally happy with AA public transportation. In my opinion it could be a lot better. For a town with this tax base and a commitment to alternative transportation modes, there need to be routes expanded beyond the city limits. Lower wage workers who cannot afford to live in Ann Arbor need more bus options. Also, there need to be more bus shelters with benches. The majority of bus stops are simply a sign, without a bench or even a place to comfortably stand and wait. Could be better, in my opinion.
#6. Not enough donuts and ice cream
This is my number one complaint. There is not a single ice cream or donut shop on the north side of Ann Arbor. We need more! Here's a great business opportunity for you. I am used to other cities where a good ice cream shop draws huge crowds and people hang out and have a good time. While we do have a few good standbys we need more.
In conclusion, Ann Arbor punches way above its weight in culture, activities, schools, and diversity. You pay the price, however, in the form of higher taxes and higher home prices. Nonetheless, Ann Arbor manages to combine the good aspects of both a big city and a smaller town. Hopefully, this is helpful in deciding if it is right for you.
Thinking of moving to Ann Arbor? Reach out to me directly. I would love to have a conversation to help you decide if Ann Arbor is right for you.
Contact Us
Related Posts