Ann Arbor Real Estate Market Update- Summer 2022
A lot has changed in real estate over the last three months. We looked at numbers for the Ann Arbor area real estate market (all Ann Arbor MLS areas) and used our experience helping clients buy and sell homes to analyze the market. Here is our Ann Arbor Real Estate Market Update:
Inventory:
Like other areas of the economy, the housing market has low supply. There were 286 home units for sale in May 2022, down 27.6% compared to last year. Year to date, homes available for sale are down 29%.
If you are a buyer who has been waiting for good homes to hit the market, July-September is likely your best opportunity. The graph above shows that July through October of last year saw more homes for sale than homes being put under contract. We expect similar this year.
From March through May this year homes sold greatly exceeded new inventory coming on the market. Expect to continue see tight inventory with some relief as rising interest rates erode buying power. Good homes are hitting the market everyday – they are just selling very quickly.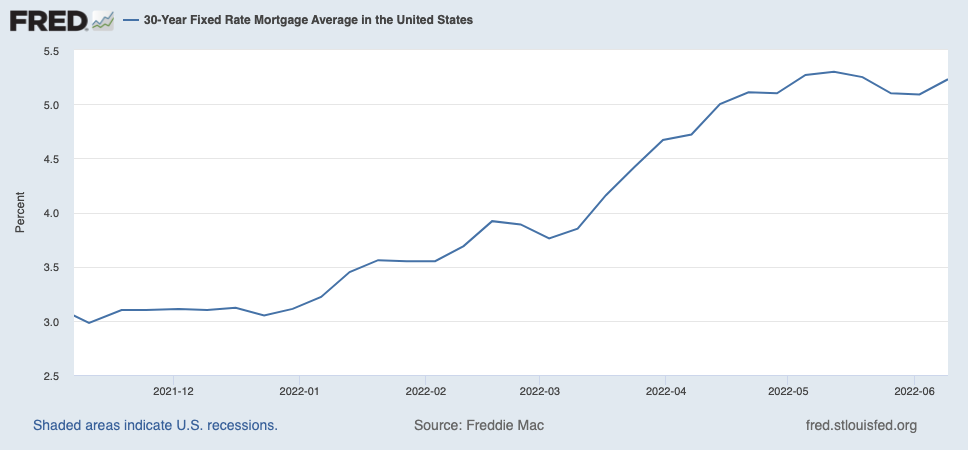 Interest Rates:
Interest rates at the start of 2022 were running around 3.1 percent. Now they are above 6 percent and are expected to go even higher. Buyers thinking of purchasing a home need to requalify with their lender at the higher interest rates and reevaluate price expectations.
A one percent increase in interest rates causes roughly a $62 increase in your payment per $100,000 borrowed. If you qualified for a $300,000 loan in January at 3.1 percent, and now interest rates are 6.1%, your payment will increase from $1,281 to $1,818. This is will cause many buyers to rethink their purchase price.
For the second half of 2022, rising interest rates will have the effect of reducing selling prices. It is hard to say by how much; however, housing experts are projecting that prices will continue to rise by about 5 percent this year (lower than the current rate of inflation), down from over 10 percent over each of the last two years. Many buyers will see themselves priced out of the market.
We expect interest rates will rise into the 7 percent range this year, putting them close to their historic average.
Inflation:
The cost of everything that goes into building and maintaining a home has increased significantly.
While the majority of price increases currently affect the energy sector (you've no doubt noticed this at the gas pump), about one-third of rising costs affect shelter. This means not only higher prices for buying or renting a home, but escalating fees for home-related services, from general contractor renovations to maintenance service providers like plumbers, electricians, HVAC professionals, and more.
Recent research shows that the labor shortage in the skilled trades has worsened, due to lack of recruitment of new talent in these fields as the experienced workforce ages out. The same research also found that eight out of 10 tradespeople had to contend with shortages of lumber, flooring, roofing, and other fixtures in the past year. "The combined demand for both workers and materials has resulted in inflation across almost every category of home services," Fisher says.
In the second half of 2022, updated homes will likely sell quicker as buyers stay away from homes that need ever-increasing expensive updates such as roofs, HVAC systems and kitchen and bath redos.
High inflation also will cause buyers to have to rethink their purchase pricing decisions as cost of living increases erode the funds available for housing. This should have the effect of moderating housing prices.
Buyer Demand and Demographic Trends:
Millennials are buying their first home and looking for larger homes for growing families. Baby Boomers are ready to downsize. These the two biggest groups actively buying and selling today. Investors holding one or two properties may see this as the best time to cash out, potentially adding inventory to the market.
Rising interest rates may slow down downsizers as many have lower taxes due to Michigan's Headly amendment and Proposition A. This means that a seller could see their taxes increase despite buying a smaller home. Additionally, many homeowners have refinanced and have interest rates near 3 percent. Selling and buying in today's environment means taking on much higher mortgage interest payments. These two items will have the effect of cancelling out the financial benefits of downsizing and cause many homeowners to decide to age in place in their existing homes.
We are seeing a large number of homeowners moving to the Ann Arbor area from more expensive areas such as California and Washington DC. Homeowners who are able to work fully remotely see Ann Arbor as offering a higher quality of life and lower costs of living. We expect this trend to continue.
Velocity of the market:
This refers to how quickly homes are being taken off the market. Currently the average days on the market is at historic lows – around 14 days! We expect that market forces will cause homes to stay on the market a bit longer; however, homes in good condition in good locations will continue to sell quickly and receive multiple offers. The best homes will continue to sell the first weekend on the market.
Buying a home this Summer:
If you are planning to buy a home in the summer of 2022, here is what you need to know.
Get an updated preapproval letter to be sure you can afford the same price point you were considering previously. Be aware of higher home maintenance and home ownership costs and factor this into your decision making. You may want to consider more updated or smaller properties. Factor in rising costs of living such as transportation, food and other expenses and adjust your purchase budget accordingly.
Don't expect or wait for a market crash. Likely, home prices will moderate, but based on under supply and strong demand, home sales and prices will remain strong. Buy for the right reasons and don't let fear of missing out hijack your decision making. Work with an agent that can help you make sense of your needs and keep you on track towards your goal of home ownership.
Selling a Home This Summer:
Don't wait to put your home on the market. Interest rates and homes available for sale will likely rise this summer and fall. If you've made the decision to move, don't wait! Get your home on the market and sold.
Don't overprice your home expecting multiple offers. This is the biggest mistake you can make in this market. Priced right, your home will likely attract multiple offers. When there are multiple bidders, you create additional demand for your home and likely the highest possible sale price. Overpriced homes will sit on the market.
Buyers are looking for move in ready homes, so make your home as show ready as possible. Take care of as much updating and pre sale maintenance as possible. They will see repairs and updates as more expensive and limiting than they actually are – take this thinking out of the equation.
Get with an experienced listing agent early to on help make good choices for preparing and pricing your home.
Related Posts