Tower Plaza, at the intersection of Maynard and William streets in Ann Arbor, offers downtown Ann Arbor living in a location that can't be beat. Tower Plaza is just one block away from The University of Michigan Central Campus. Shopping on Liberty Street and State Street are both just one block away as well, and you'll be able to walk to restaurants, theaters, and any other amenities you want.
In addition, with a condo at Tower Plaza, you'll have access to numerous other benefits, like complete property management services, on-site laundry, and recent renovations. Should you decide to rent out your condo, you'll be able to take advantage of Ann Arbor's consistently strong rental market.
Furthermore, while inventory in downtown Ann Arbor is extremely limited right now, Tower Plaza consistently has condos available for purchase at prices that are considerably lower than other properties nearby. Click here to see all current Tower Plaza listings.
Benefits of Tower Plaza
Aside from its unbeatable location, Tower Plaza has a lot of other amenities to offer: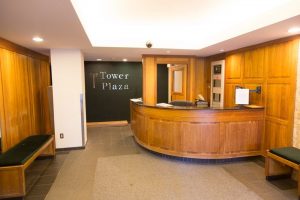 Complete onsite property management services
Tower Plaza offers 24-hour professional concierge and emergency repair services. You'll be able to trust that they'll keep everything clean, safe, secure, and running smoothly. Not only does this offer you convenience, but it also gives you access to trustworthy service providers anytime you need.
Recent renovations
In 2006, Tower Plaza underwent a $3.4 million renovation on the south side of the building called "curtainwall remediation". As part of this renovation, all the Tower's south-facing windows were replaced. These renovations created additional space and provided better insulation, allowing for increased temperature control at all times of year.
Safety
Tower Plaza has a friendly concierge on duty for your security 24/7. There are also television monitors in the parking lot and laundry room for your safety. If you travel for work or leisure, you'll love knowing you can lock up your condo and know it's secure.
Privacy
Because of its concrete floors and ten-inch masonry walls, Tower Plaza offers quietude and silence, even though it's right in the middle of the city. Whether you're a student who is serious about studying, or just someone who wants to live in peace and quiet, you'll love the atmosphere Tower Plaza provides.
Clean, well-lit, onsite laundry facilities
Open all times of the day and night, you'll love Tower Plaza's clean, well-kept, and well-lit laundry facilities. Cleaning and maintenance staff ensure the convenient facilities are well-kept and running smoothly at all times of day.
Excellent rental market
Whether the market is strong or weak, or whether it's a buyers or sellers market, the rental market in Ann Arbor steadily remains remarkably strong. This is in part because of Tower Plaza's close proximity to The University of Michigan campus, which brings in a steady student population of the tens of thousands.
If you do decide to rent out your condo, you'll be able to post it to the Tower Plaza website, where their website administrator will post photos and descriptions of your place.
Extraordinary Location and Value
Tower Plaza's prime location and close proximity to the best restaurants, shopping, and entertainment Ann Arbor has to offer, means it's attractive to buyers in all markets. Properties in Tower Plaza are available at prices that are difficult to match in other nearby locations. Click here to see all current Tower Plaza listings.
Breathtaking Views
With windows that span the length of your condo, you'll have a view of anything from The University of Michigan Campus and The Big House, to surrounding Ann Arbor, and even neighboring towns and countryside. At 26 stories tall, Tower Plaza is Ann Arbor's tallest building, and offers the best views in town.
What's Included
As part of owning a property in Tower Plaza, you'll pay an association fee, which covers heat, water, sewer, hot water, cable tv, building security, maintenance, and insurance. The amount you'll pay for the association fee is based on the square footage of your condo.
As an owner of a Tower Plaza condominium, some of your costs will also be tax deductible. Check out the table below to see which tax advantages you can take advantage of:
| | | | |
| --- | --- | --- | --- |
| | Owner-Occupied Residence | Vacation Home or Second Residence | Rental Property |
| Property Taxes | Deductible | Deductible | Deductible |
| Interest | Deductible | Deductible | Deductible |
| Condominium Maintenance Fee | Not Deductible | Not Deductible | Deductible |
| Improvements | Add to Basis | Add to Basis | Deductible |
| Repairs | Not Deductible | Not Deductible | Deductible |
To find more detailed information on condo bylaws, deeds, and article of incorporation, click here.
Whether you're looking for a smart investment for a student, professional, or retiree, Tower Plaza has a lot to offer. To learn more about available Tower Plaza properties, contact Andy Piper at (734) 845-9700 or fill out the form below.
Contact Us
Related Posts