Summer has arrived in Ann Arbor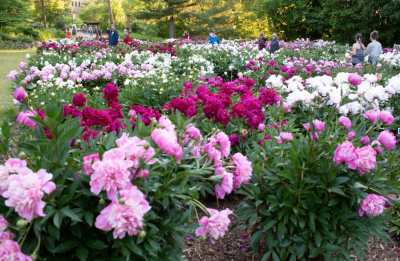 The weather is hot, the student population is down and it's easier to park, so it's the perfect time to take a breather and explore the Ann Arbor scenery and upcoming events!
If you are new to Ann Arbor, or maybe even if you have lived here for a while but are looking for some new and exciting events to spruce up your summer, here are few unique June activities that I am sure you will enjoy!
Shakespeare in The Arb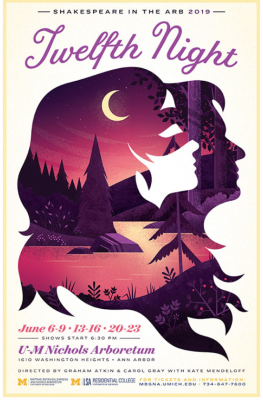 Going on Now at the Nichols Arboretum is the annual Shakespeare in the Arb event! This year, U-M students and community players will be mounting a production of The Twelfth Night! The play is performed throughout the arboretum and moves to different locations scene by scene. Bring a blanket or chair to see this unique interpretation of a beloved classic. Directed by Kate Mendeloff of the U of M Residential College, Carol Gray, and Graham Atkin, this outdoor performance will intertwine this beautiful love story with the surreal natural scenery of The Arb. Performances are available Thursday-Sunday, June 6-9; 13-16; & 20-23, starting at 6:30PM.
The Peony Gardens
The Peony Gardens are a truly special place! THANK YOU to all the people that work so hard at the gardens so we can come out a couple of times in early June and take in this beauty! Did you know that over half of the herbaceous cultivars in the Peony Garden are rare or no longer in the trade? Some are likely extinct other than the individuals on display here which means that seeing these beautiful flowers may truly be a once in a lifetime event!
This upcoming weekend will be one the best opportunity to enjoy the Peony Garden at Nichols Arboretum at its peak! According to the Peony Bloom Countdown website, The Peony Garden was in 40% bloom on Friday, June 7th but doubled to 80% bloom by Sunday, June 9th!
The peonies are truly one of the early summer wonders here in Ann Arbor, and worth coming to see before it is too late!!
Summer Festival
Also coming soon is the Ann Arbor Summer Festival  taking place from June 14th through July 5th and featuring concerts from prominent musicians from a diverse array of genres as well as a huge variety of culinary, music, dance, comedy, and wellness events for people of all ages. Main-stage performances will include a modern circus style performance by The BARBU Electro Trad Cabaret with their "Production of Cirque Alfonse", the prominent American folk-rock band Dawes, jazz musician Madeline Peyroux, and many more! Check out their calendar for a full list of events!
The Mayor's Green Fair
The City of Ann Arbor mayor's office is hosting the 19th annual Mayor's Green Fair on Main Street Friday, June 14th 2019 from 6–9 p.m. to celebrate our community's environmental leadership as exhibited by citizens, nonprofits, government, and businesses.
This year's theme will be "Envisioning a Sustainable Ann Arbor"! Main Street will be closed to through traffic from Huron to William, remaining open to pedestrians where booths will feature displays of environmental information, "green" products, live music and a general enjoyment of the urban outdoor environment from a Green perspective. Information, entertainment, and hands-on activities for all ages will be provided.  What a great chance to explore the "urban jungle" of downtown A2!
Green Fair activities include:
Environmental nonprofit organizations, government agencies and participating businesses that support environmental and sustainability practices.
Hands-on activities and live birds of prey demonstrations.
Live music, preformed by The Vicissitudes.
Exhibitors that will show off innovative energy-saving designs and actions, including displays of electric vehicles, green building materials, solar energy installations, renewable energy installations and more!
Green transportation exhibits, sponsored by the getDowntown Program, showcasing a variety of ordinary and innovative sustainable transportation choices — featuring test rides on hybrid and cargo bikes, information about the William Street bikeway, and autonomous vehicles.
Pop-up meeting to discuss Ann Arbor's Comprehensive Transportation Plan​ update​ effort​​​ and Vision Zero goals​.
Ann Arbor Art Fair
The 2019 Ann Arbor Art Fair is a truly spectacular annual event here in A2. From Thursday, July 18th to Sunday, July 21st Ann Arbor will host a spectacular display of diverse and original art pieces that will be sure to impress the artsy citizens among us of all ages and artistic persuasions. One of the largest Art Fairs in the nation, the Ann Arbor Art Fair is actually four Art Fairs in one featuring the original Street Art Fair, The State Street Art Fair, The South University Art Fair, and The Summer Art Fair! Each year this event attracts nearly half a million visitors from all over the state and country.
Further details about the event and featured vendors and artists will be released soon! Visit their website linked above and don't miss out on this one of a kind artists experience here in Ann Arbor this July!
Feel free to contact us with any questions about these events or what else there is to do in Ann Arbor this summer!
Contact Us
Related Posts