We know that time is short and you've got a lot on your plate. That's why we've compiled this list of our 10 favorite apps for making your life a lot simpler. From helping you pay your bills and pick paint colors to getting that key pre-approval for a mortgage, check out these convenient apps that will knock things off your to-do list in no time.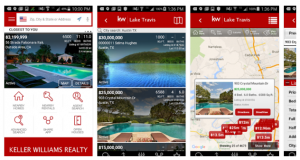 For quick home searches in the Ann Arbor and Washtenaw County areas and beyond, be sure to have our app on your device for access to over four million homes! Whether you need to move right away or are just browsing, your home search could not be any easier! CLICK HERE to get it now!
Before you fall in love with a home in the search process, you will want to know that you are pre-approved for a mortgage and exactly how much it is for. Do this as soon as possible to ensure that you are searching within your actual price range and can take immediate action when you find the house of your dreams. There is nothing worse than falling in love with a home only to find out that you can't afford it. This app includes mortgage calculators, a document organization system, instant updates, and direct answers to your questions. Don't be caught without it! CLICK HERE to get it now!
We recommend this app for several reasons. Not only can you pay your bill, but you can also keep an eye on your  energy usage, learn about outages, and report emergencies. Manage your account easily and learn how you are consuming energy with a quick view. CLICK HERE to get it now.
Home maintenance is an important yet often easy neglected item on any homeowner's list of tasks. This app for Apple users lets you set a home maintenance plan, then sends you alerts each time a task needs to be completed, such as changing the batteries in your smoke alarms, cleaning the gutters, fertilizing the lawn or even getting an oil change on your car. It also includes a directory of local businesses with customer ratings for each task to make it quicker and easier to hire out the tasks you can't complete yourself. CLICK HERE to get it now
Like HomeSavvy, this app helps you create customized schedules for all of your home tasks and inventory. This is a great option for Android users as it is available for both Apple and Android users. CLICK HERE to get it now.
This app is perfect for homeowners who are new to the area. AroundMe finds the closest restaurants, bars, shopping centers, coffee shops, banks, hospitals, movie theaters, pharmacies, grocery stores, gas stations and more. It basically tells you about your surroundings – quick and easy! CLICK HERE to get it now.
7. BillMinder
BillMinder- Living on your own means paying a lot of bills. And paying them on time. Even upgrading from an apartment to a house means more payments to keep track of every month. BillMinder helps homeowners manage everything they owe, streamlining the electric, water, credit card, cell phone and other bills right on the app. You can even set up notifications to be reminded when a payment is due and avoid late fees. Available on the App Store and on Google Play.
What colors inspire you? If you prefer the hues found in nature over those in a home improvement store, give the Benjamin Moore Color Capture App a try. Simply take a picture of the color you love whenever and wherever you see it, then watch as the app digs through its database of more than 3,500 options to find the most similar shade. You can then shop for paint and décor that matches that exact color. Access to the Benjamin Moore color wheel included plus inspirational color cards to help you coordinate. CLICK HERE to get it now.
What's in your house? Document it with Encircle. This app keeps track of every item you own through photos and stores them in case of theft or damage along with copies of receipts or other documentation to support value. This is an invaluable tool in the event you need to make a claim with your insurer. CLICK HERE to get it now.
Need ideas for a DIY project? Maybe some guidance along the way? You're covered with the DIY Tip Genius app from The Family Handyman. Gain access to nearly 4,000 tidbits, tips and tutorials. There are even some hacks for getting projects done faster and for less money along with expert advice. CLICK HERE to get it now.
Floorplanner's MagicPlan app makes space planning simple and is so cool that we had to include it in our list! Step into a room, and mark the corners of it with your phone's camera just by turning around. The app will create a floorplan for you!
These are just some of our favorite apps for making life a little easier. Got some you love that aren't on this list? Please tell us about them in the comments below!
We are neighborhood experts who will communicate with you openly and honestly as we help you buy or sell your home in the Ann Arbor Michigan or Washtenaw County area as quickly as possible. And, with our premiere marketing services, including a state-of-the-art website featuring over 1000 neighborhood pages, we are committed to making the process of selling or buying especially easy, too. Your circumstances are unique, and so are your homeownership needs. We get that. Contact us today. We'll be happy to help in any way we can.
Related Posts