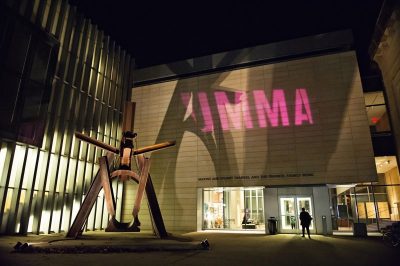 Ann Arbor has a thriving museum culture, largely in thanks to the UMMA (University of Michigan Museum of Art) and the University's Kelsey Museum of Archaeology.
This Sunday at the UMMA from 3-4pm, artist Jim Cogswell will be giving a tour of his exhibit, Cosmogonic Tattoos, on view at UMMA through June 2, 2019.
In celebration of the University Bicentennial, Stamps School of Art & Design Professor and artist Jim Cogswell was invited to develop a public installation drawing upon the collections of the University of Michigan Museum of Art and the Kelsey Museum of Archaeology. For this visionary project, the artist created a single rhythmic procession of vivid, but fragmentary images installed on the glass walls of the two museums.
In this walking tour of the installation at UMMA, Cogswell will describe the purpose and process of his project which narrates a compelling story about the movement of people and objects throughout history, their stories now set in new relationships to each other.
Another reason to visit this Sunday- the exhibit Red Circle: Designing Japan in Contemporary Poster will be closing after that date. Don't miss your chance to check it out!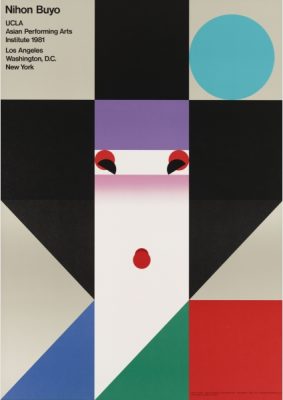 In the 1980s, Japan's strong trade surplus and currency were causing friction and antagonism overseas. In response, three renowned Japanese artists—Ikko Tanaka, Shigeo Fukuda, and Kazumasa Nagai—took on the challenge of changing Japan's global image through graphic design. In posters promoting trade fairs, cultural festivals, exhibitions, and sporting events, they used a powerful language of simple forms, vivid color, and a touch of humor to foster—both nationally and internationally—a deeper understanding of the different faces of Japan and its long cultural history.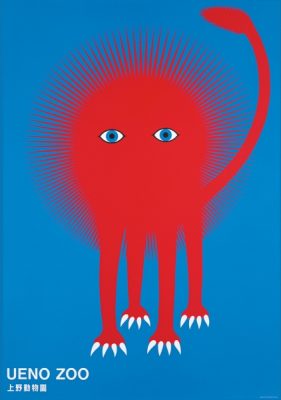 Their eye-catching designs often incorporated familiar traditional symbols and motifs, notably the iconic red circle against a white background of Japan's national flag. Archetypal animals, human figures, and landscapes borrowed from folklore and visual culture were also distilled into forms of iconographic clarity. These dazzling posters are a fascinating chapter in the history of Japan's ongoing efforts to shape its identity in the post-World War II era.
Or, if Sunday doesn't work for you, consider coming to one of the museum's Fridays After 5 events. These are always fun – you can go out to dinner and take a walk through the museum for a nice, calm night out.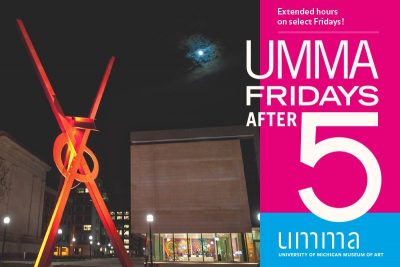 Just stop in to UMMA on select Friday evenings to enjoy special exhibitions and engaging activities. With all of UMMA's galleries remaining open until 8:00 p.m., this exciting series provides an interactive atmosphere for all audiences.
You can park in the Maynard Structure (between Liberty and William) and receive free, validated parking. The Museum is always free! The next Friday's After 5 are happening on May 11, June 8, and July 20. Mark your calendars!
Thinking of moving to Ann Arbor for more vibrant culture? Contact us today and we can give you all kinds of information in Ann Arbor and/or the process of buying a home.
Contact Us
Related Posts