Nichols Arboretum, more commonly known as "The Arb", is a truly special feature of Ann Arbor. With lovely gardens, landscapes, and hiking trails, this place is a sanctuary for nature. But beauty is not the priority – history, ecology, and culture inform each area of The Arb. With 123 acres of greenery, gardens, and trails, The Arb is an absolute must-visit. It's gorgeous year-round but with so many plants and trees in full-bloom, summer at the Arb has an extra-special feeling. Plan your trip today!
Where to enter:
There are 3 entrances: Washington Heights, Medical Center Drive, and Geddes Road. I'd recommend starting at the Washington Heights entrance – it has a visitor's center, so if you go during open hours, there are restrooms and water fountains. Many of the trails start near this entrance.
Parking:
Use metered parking on Observatory Street and Washington Heights. If you go after 5pm or on a weekend, the UM Blue Lot M-28 on Washington Heights is free and is very close to the Visitor's Center entrance. Near the Medical Center Drive Entrance, and not too far from the Washington Heights Entrance, there are large hospital parking structures available at an hourly rate.
What to wear:
Sneakers are sufficient for the trails in the Arb, or if you have hiking shoes that's great too. Most of the trails are gravel or mud, and the terrain isn't too difficult. Athletic clothes/hiking attire will work, but don't wear anything you're worried about getting snagged on a branch. Individual trail maps will warn you of difficulty and terrain. Be sure to check the weather forecast before your trip to prepare for extreme heat or rain!
5 Trails/Places to See:
Peony trail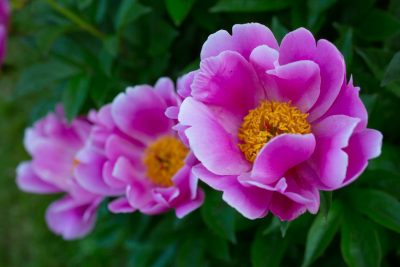 If you enter through Washington Heights, you'll see the Peony Trail right away. This easy to hike trail is relatively flat and straight, and it takes you through the rows and rows of pink flowers that is the Peony Garden. 100 years old this year, the Peony Garden is a historic heirloom collection of different peonies. It's a photo-worthy sight. The flowers bloom until about mid-June, so plan your trip as soon as possible!
River Landing
The river landing of the Huron River shows a beautiful view of the open river flow. Here, you can canoe, bird watch, catch some crawfish, or just enjoy the view. There are picnic tables nearby if you want to enjoy a picnic with the view! The river landing has suffered from degradation and erosion throughout the years, but through use of rubble removal, regrading, and erosion control blankets – techniques that account for human interest and sustainability of nature – the landing is in great condition and reaches right near the surface of the water.
Shakespeare in the Arb
Just a tenth of a mile from the Riverfront Landing, and located in the Arb's Amphitheater, Shakespeare in The Arb is a 20 year old tradition. This year, they are performing A Midsummer's Night Dream. If you plan to attend, check the weather beforehand – it's an outdoor show! This photo gallery of the performance demonstrates how the show is a blend of art and nature. Enjoy the sunset and a moving performance by University of Michigan students with showtimes at 6:30-9 throughout the entire month.
Schoolgirls' Glen
Head up Nichol's Drive along the Huron River and you will find Schoolgirls' Glen. This valley will look different every point in the year, but it demonstrates the impacts of runoff and erosion. If you visit soon after a big storm, you'll notice the valley may be flooded. As climate change causes more intense weather, Schoolgirls' Glen reflects the changing concerns surrounding keeping the planet safe.
Centennial Shrubs
After you've sufficiently walked The Arb, I recommend driving to the Geddes Road entrance and popping into the Centennial Shrubs Garden. The variety of plants here are grown without man-delivered water, pesticides, or fertilizers. They are carefully selected to live together in harmony. Some plants are decades old, others are new favorites and still others are grown natively and naturally. This landscape was first developed over 100 years ago in 1907. Come in the summer while the lilacs are in full bloom, and the sweet smell will make your experience even better!
The Arb is one of Ann Arbor's many free summer activities. Check out Andy's Must-Do Ann Arbor Summer Activities for more ideas, from ice cream t0 tubing down the river. Let us know how you spend your Ann Arbor summer on Facebook!
Related Posts