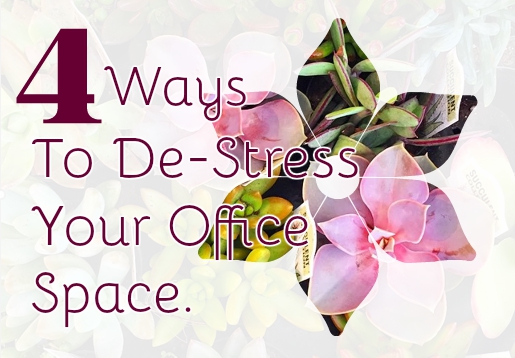 Whether your "office" is in an office, at home, in your car, or (as we all know too well) wherever you can easily connect to Wi-Fi. Below are some simple yet effective ways to ensure your work space is set up to WIN!
---
1. Balance Your Lighting.
It's time to ditch that dreadful fluorescent light! Light doesn't just affect a person's well-being and health, it can also have a great impact on motivation and performance.
Optimal lighting requires both balance of indirect and direct light sources, as well as a balance between daylight and artificial light. To achieve a balance between natural and artificial light and to avoid shadows and glare, it is recommendable to place lights parallel to the window and the working place. When setting up your office for optimal lighting, ask yourself these helpful questions:
Is there sufficient natural light at the workplace?

Is a balance of direct and indirect light guaranteed?

Is there a need for optimization in the use of energy saving lamps?

Do you use a flicker- and glare-free lighting?

Is the light intensity in the room individually adjustable?

Do you use pleasant and bright light colors (warm white, neutral white)?

Do you avoid glare and distracting reflections?
2. Go Green!
For beauty and for benefits, having a work place environment with plants leaves you with cleaner air, better health, and increased productivity. Also known to increase performance in creative problem solving tests by improving innovative thinking, generating more ideas, and original solutions. 
5 Best Plants for the work place:
Spider Plant – 

Boosts relative humidity and decreases particulate matter.

Lemon Balm – 

Easy care. Sweet smell is a clear mood enhancement.

Philodendron – 

Frees indoor air of VOCs and excess carbon dioxide.

Peace Lily – 

Improves indoor air quality by removing VOCs.

Golden Pothos – 

Heart-shaped leaves removes majority of VOCs and other pollutants from the air. Like Low light  – great for desks.
3. Inspire Yourself.
Art isn't just for adding a splash of color or providing a talking point to bland space. Having culture in the workplace can improve the workplace culture itself. By enriching your office with plants and pictures helps address key challenges such as reducing stress, increasing creativity, and encouraging expression of opinions.
Go for Fun and Open by i

ncorporate quirky, eclectic pieces of art.

Go for Personal by e

xpressing yourself. Hang your favorite inspirational quote, your favorite hobby, or a photo drawn by a beloved.

Go for Vision by t

ransporting yourself right out of the office with photos of famous skylines, buildings, and places.

Go for Different by h

anging a handwoven tapestry or relief sculpture.
4. Connect with HOME.
Employers have mixed feelings when it comes to having photos of family in the workplace. This is because there's a narrow line between defective and effective. We encourage keeping your strongest motivators close!! Sharing family photos in the workplace in an attractive, organized manner helps coworkers become and remain connected. Below are some tips on how to keep balance while adding your own personal touch.
Desk Organizers – Chances are you already have a place where you store pens, markers, paper clips, scissors, and all other office essentials. Who says you can't spice it up.

Line a small jar or can with colorful paper topped with a family photo. Decorate with stickers, letters, or stamps.

For a more classic look, print images in Black and White.
---
Written By: Ashley Gartrelle
Related Posts