Here are five of Andy's favorite Ann Arbor lunch spots.  The list has not changed much in the last several years and I am happy to say they are all open for indoor dining now.  If you are new to town, then just work your way down the list. You won't be sorry. I wish I had found a list like this when I first moved to Ann Arbor!
One thing these Ann Arbor restaurants have in common is they are all family-owned and operated by entrepreneurs with a special vision for the food they prepare and serve. All of them are reasonably priced and family-friendly. I hope you get a chance to try them out.
Biercamp 1643 S STATE ST ANN ARBOR, MI 48104
All the menu offerings at Biercamp are made in-house by hand, in small batches, using unique ingredients & treasured family recipes. They only work with farms where animals are raised naturally & humanely using no antibiotics, hormones, growth-promoting drugs, or artificial ingredients. They grind all our meat fresh & all smoking & curing is done in-house. There is also a great selection of microbrews available to enjoy in the beer garden.
I always go for the Steamship Round or pulled pork sandwich and a 16-ounce root beer. I sit outside when the weather is nice on the covered patio. This is a great place for a meetup with friends. Guilty pleasure – any of bacon sliced thick. Nearby Ann Arbor neighborhood: Burns Park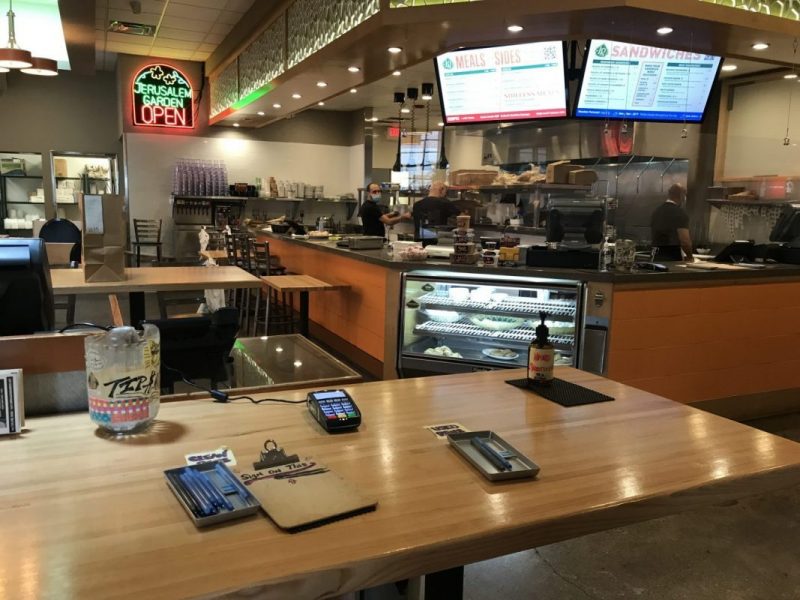 Jerusalem Garden 314 E Liberty St, Ann Arbor, MI 48104
Jerusalem Garden's founder Ribhi Ramlawi was a quiet man who welcomed anyone into his tiny restaurant. His spirit of kindness and openness imbued the place he established in 1987 to support his family.
The essential spirit of Jerusalem Garden goes back to a big-hearted immigrant who cared about people – and wanted his family to have something to nourish themselves after he was gone.
My standard order is a chicken shwarma sandwich with a bowl of lentil soup. You can tell there is a lot of love and soul in this place, family-owned and run-you can tell! Back when they were next to the library in a very small location with the kitchen right up front, my favorite thing to do was to sit at the counter and watch them shape and fry the falafel balls and grill the chicken! Meditative. The old place was the size of a thimble the current location on Liberty is large and beautifully decorated. Patio seating available. Guilty pleasure – Baklava and Turkish coffee and substituting french fries for rice. Nearby Ann Arbor neighborhood: Downtown Ann Arbor
Ricewood Barbeque  1928 Packard St. Ann Arbor, MI 48108
The reviews speak for themself. Some of the best bbq you will find anywhere – especially north of the Mason-Dixon line. Self-described as Texas-style barbecue,  they offer brisket, ribs, Szechuan chicken, pulled pork, pork belly, and veggie served over two scoops of fluffy rice. Diced tomatoes and scallions are added, and a soy and vinegar sauce is poured over the top before being crowned with your choice of barbecue.  Definitely enough for two people!
My favorite – anything barbeque and I'm in! Especially brisket. Nothing else like it – Try it! Outside seating available. Guilty pleasure – eat the whole thing! Nearby Ann Arbor neighborhood: Georgetown-Smokler Hutzel
Frita Batidos 117 W. Washington Ann Arbor, MI 48104
Inspired by Cuban culture and a fantasy revolving around two staples in the world of Cuban street food – The FRITA – a burger traditionally made from spicy chorizo served with shoestring fries on top in a soft egg bun and BATIDOS – tropical milkshakes made with fresh fruit, crushed ice, and sweetened milk – with or without rum! Like burgers and shakes, Fritas and Batidos are a natural pairing and the whimsical menu is the result of dreaming about these two dishes for years! Frita Batidos is chef-driven, following the tenets of the Slow Food Movement with almost everything being made in our kitchen, from scratch
A beef Frita with an egg and a coconut cream Batido for me, please.  Add rum if you like. I love the lunchroom casual-style seating, order at the counter grab a seat and in a while, your food shows up!. It can get pretty lively in there when it's busy.  Expect to wait during peak times. When my kids are in town it's a must-do.
BTB Burrito  1140 S University AveAnn Arbor, MI 48104
BTB Burrito has been providing delicious, huge, healthy, fast, inexpensive burritos, quesadillas, nachos, and more, to hungry and appreciative Ann Arborites. Founded by Adam Lowenstein, a University of Michigan grad, and Justin Herrick, fellow Californian (and Amherst grad if you're wondering), our goal has always been to be the best college burrito spot we can be.
I used to love to eat at the S. State Street location until they closed! Now it's only carryout for me. Chicken burritos and green sauce on the side. Sometimes chips and guacamole. Nacho's to-go are good also and they separate out the wet stuff from the chips so they are in great shape when you get them home. Guilty pleasure – Chimichanga! Nearby Ann Arbor neighborhood: Ann Arbor Hills
These five lunch spots are just a few of the great restaurants I could pick from. A few others are Zingermans Deli and Zingermans Roadhouse, Cardamom, Shalimar, Lucky Kitchen, and Blimpy Burger. Let me know what your favorites are.
Related Posts