Among the concerns that homeowners face is knowing if there is a presence of radon gas in their home. At the wrong level, radon can pose serious health risks and scare away prospective buyers. Read on to learn about radon, its effects, and what to do about it to ensure that your home – or the one you are thinking of buying – has a healthy indoor environment for you and your family. Not sure if you're affected or what to do? We can help you sort through it.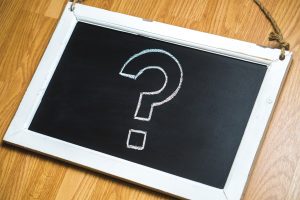 What is Radon?
According to the Environmental Protection Agency, radon is a radioactive, colorless, odorless gas that occurs naturally from the breakdown of uranium in the soil. Some parts of the country experience more radon than others. In fact, radon levels can vary tremendously between counties, within counties, and even on the same street! 
Because it cannot be seen or smelled, there is no way to know if you have radon in your home without testing the air quality. Studies have shown that as many as 12% of homes in Michigan may have elevated levels of radon. 
Why worry about Radon?
It can be hard to care about something that cannot be seen, smelled, or felt in any way, but radon can be a big problem. Radon has been known to cause lung cancer. In fact, it is the leading cause of lung cancer in non-smokers and significantly increases a smoker's chance of getting the disease.  In 2005, the Surgeon General issued a health advisory about the serious effects of breathing in radon over prolonged periods.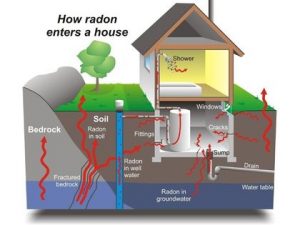 Even more worrying is that elevated levels of radon in the home do not show themselves through any kind of warning sign, like nausea, headaches, or skin problems. If you are experiencing these issues, it's best to talk to your doctor.
Radon seeps through the soil and into your home in many ways. Because it is unnoticeable, the only way to be sure that you are safe is to test the air quality in the home with an inexpensive, easy test kit.
Radon Levels in Southeast Michigan
Southeast Michigan is an area that is known to have varying levels of radon present, and it is measured in picocuries per liter of air (pCi/L).
        

Wayne County

is considered a Zone 3 area with average indoor screening levels less than 2 pCi/L.

        

Monroe County

is considered a Zone 2 area with average indoor screening levels between 2 and 4 pCi/L.

        

Washtenaw County

 (and many counties to the west) is considered a Zone 1 area with average indoor screening levels greater than 4 pCi/L. Amounts vary greatly across the county!

        

Find the results for your specific area on the EPA Radon Zone map.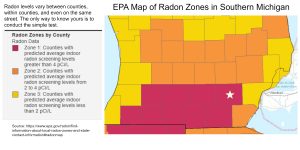 But, take note: just because a home is located within a certain zone is no indication that it is or is not affected by high levels of radon. These are averages and do not reflect the actual circumstances of any particular address in a county. The only way to really know how your home fares is to test the air quality in it.
And, be sure to test your home for radon even if your neighbor tested theirs. There is no guarantee that their results will be the same as yours since radon levels often vary between parcels of land.  
Two Big Reasons Why You Should Test
Check for radon levels in your home to ensure that the air quality in your home is safe for you and your family.

Check your home for radon levels to avoid a surprise when it comes time to sell your home.  An offer to purchase could be in jeopardy if a home buyer tests the air in the home at the inspection and finds it at a concerning level. Avoid trouble in the future by taking a few moments to test your air quality now. 
Good news!
The good news is that the health threat and complications at home sale time are preventable at a low cost. And, mitigating the effects of radon in the home is something that everyone can do with success.
        

If your home is in Ann Arbor Michigan or Washtenaw County, you can purchase a radon test kit for just $10, including postage and lab analysis, from Washtenaw County Environmental Health or they will mail one to you for an additional $2.

        

If your home is in Ypsilanti, Michigan, radon test kits are available from the Township Supervisor's Office in the Tilden R. Stumbo Civic Center.

        

Order a test kit online at

http://cgi.radon.com/sub/mi/

.

        

Have your home professionally tested for complete peace of mind or if your in-home test kit returned showing elevated levels.
What if I need mitigation?
If your test results show an elevated level of radon, you will want to contact a company that specializes in mitigating radon levels in homes. In some cases, such as when the radon level of the home is close to the threshold of 4 pCi/L, simply caulking and sealing can suffice. However, this is often not a permanent solution and is certainly not sufficient where the radon levels are higher than that.
The solution to a higher level of radon in the home involves a professional installing a vent pipe and fan that exhausts the gases from under your basement slab or crawl space through a vent under the eaves. The cost of adding this type of system can varying depending on your home. It is often around $750 to $1,000. CLICK HERE for more information about radon mitigation in Michigan. 
We always recommend that you work with a reputable company. In this case, be sure to choose one that is certified by the National Radon Proficiency Program or the National Radon Safety Board . These websites also provide a search to help you locate certified companies in your area. There are several certified radon mitigation experts in the Ann Arbor area, which means that you have some options in finding one that is just right for you.
Radon Mitigation is a Good Thing for Home Buyers and Home Sellers
If you are a home buyer and have fallen in love with a home that has a radon mitigation system, talk to your Realtor about buying it. The presence of a radon mitigation system demonstrates that any radon issues have been addressed by an attentive previous owner. For your own peace of mind, conduct an air quality test.
If you are a home buyer and considering a home that does not have a radon mitigation system, conduct an air quality test to assure yourself that everything is fine or that attention is needed. If you determine that the radon level is high, you may have some additional negotiating power. Discuss this with your Realtor. He or she will have important advice and instructions for you.
If you are a home seller, know that air quality is important to home buyers and that you can spare yourself a lot of surprises at what may be a stressful time by knowing that the air quality in your home is safe or has been properly protected from radon levels. Put this on your to-do list today!
Further Information
Every state has a State Radon Contact. For Michigan, contact the Department of Environmental Quality or the Michigan Department of Health and Human Services.
Additional information is available from:
National Radon Proficiency Program (NRPP) – Phone (toll free): (800) 269-4174 or (828) 890-4117 – Email: angel@nrpp.info
National Radon Safety Board (NRSB) – Phone: (866) 329-3474 – Email: info@NRSB.org
National Radon Information Line: 1-800-SOS-RADON [1 (800) 767-7236]
Download The Citizen's Guide to Radon from the EPA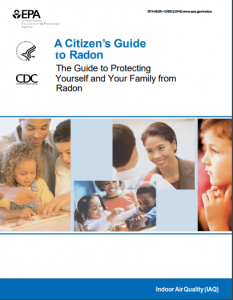 You're Not Alone in This!
Here at Piper Partners, we are neighborhood experts who will communicate with you openly and honestly as we help you buy or sell your home in the Ann Arbor Michigan or Washtenaw County area as quickly as possible. And, with our premiere marketing services, including a state-of-the-art website featuring over 1000 neighborhood pages, we are committed to making the process of selling or buying especially easy, too. Your circumstances are unique, and so are your homeownership needs. We get that. Contact us today by calling 734.845.9700 or by completing the form below.  We'll be happy to help in any way we can.
Contact Us
Related Posts