In today's real estate market, low inventory and high demand are driving up home prices. As many as 54% of homes are getting offers over the listing price, based on the latest Realtors Confidence Index from the National Association of Realtors (NAR). Shawn Telford, Chief Appraiser at CoreLogic, elaborates:
"The frequency of buyers being willing to pay more than the [appraised value] is increasing."
While this is great news for today's sellers, it can be tricky to navigate if the price of your contract doesn't match up with the appraisal for the house. It's called an appraisal gap, and it's happening more in today's market than the norm.
According to recent data from CoreLogic, 19% of homes had their appraised value come in below the contract price in April of this year. That's more than double the percentage in each of the two previous Aprils.
The chart below uses the latest insights from NAR's Realtors Confidence Index to showcase how often an issue with an appraisal slowed or stalled the momentum of a house sale in May of this year compared to May of last year.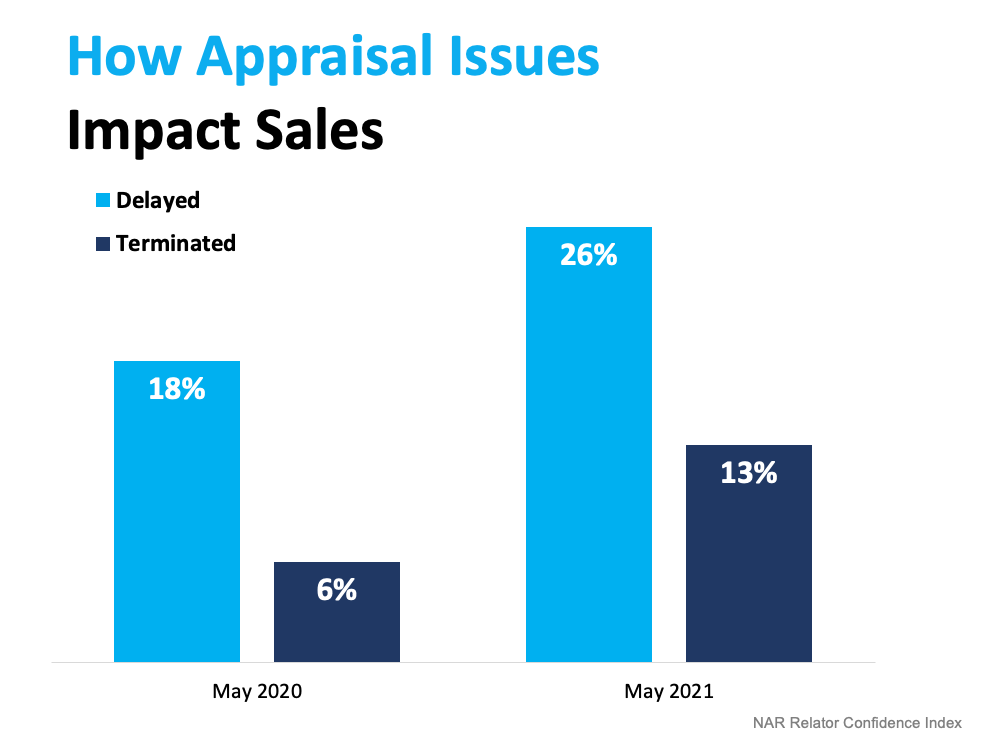 Why Is An Appraisal Necessary?
An appraisal is an opinion of value by a licensed real estate appraiser. Mortgage lenders hire appraisers for home purchase loans, refinancing, and many other loan products.
Every sales contract between a buyer and a seller has a purchase price. The bank agrees to lend money to the buyer for the purchase of the home, assuming the property appraises at value
Banks hire licensed appraisers to offer their professional opinion on what the home is worth. This process safeguards the mortgage company from lending too much money for an asset that may not worth the contract price.
What Is An Appraisal Gap?
An "appraisal gap" is the difference between the appraised value of a home and the purchase price in the sales contract. It's an issue most commonly experienced by buyers in competitive markets in which bidding wars and other aggressive offer tactics are common.
Who Covers The Gap?
Both the buyer and seller have a vested interest in making sure the sale moves forward with little to no delay. Sellers want deals to close quickly, without issue, and buyers don't want to risk losing the home.
In this market, sellers have all the leverage and cash is king. Which is why buyers are offering to cover any appraisal shortfall up to a certain cash $$ amount in their initial offers. This sweetens the deal for sellers, letting them know that you are serious and have cash to back up your offer.
Most recently, we have seen offers with appraisal shortfall coverage rise to the top (with our buyers and sellers), over lower dollar amount cash offers and, of course, over other financing-contingent offers.
Bottom Line
Positioning a buyer's purchase offer in today's hot seller's market is best handled by an experienced agent. While we don't win every offer for our buyers, properly positioning a financed offer with an appraisal shortfall gap coverage is one of the ways we can help move your offer to the top.
let's connect so you have an ally throughout the home buying process to navigate you through the process so you find the right home and close on time.
Buyer Information Request
Related Posts