by Mary Adams
With rates still at historic lows, and predictions that they could even get better this quarter, this is an amazing opportunity to purchase a new home. Here are three questions we often hear from clients, and their answers.
Question 1) "Should I purchase a home if I am only going to be in this area for 5 years?"
The short answer is… Yes!  Here's why:
Mortgage interest and property taxes are tax deductible
Typically, Ann Arbor area homes' values increase around 5% per year
Home prices rise faster than the average American can save money for a large down payment
Freddie Mac has a great tool for calculating the value of purchasing versus renting.  Check it out here.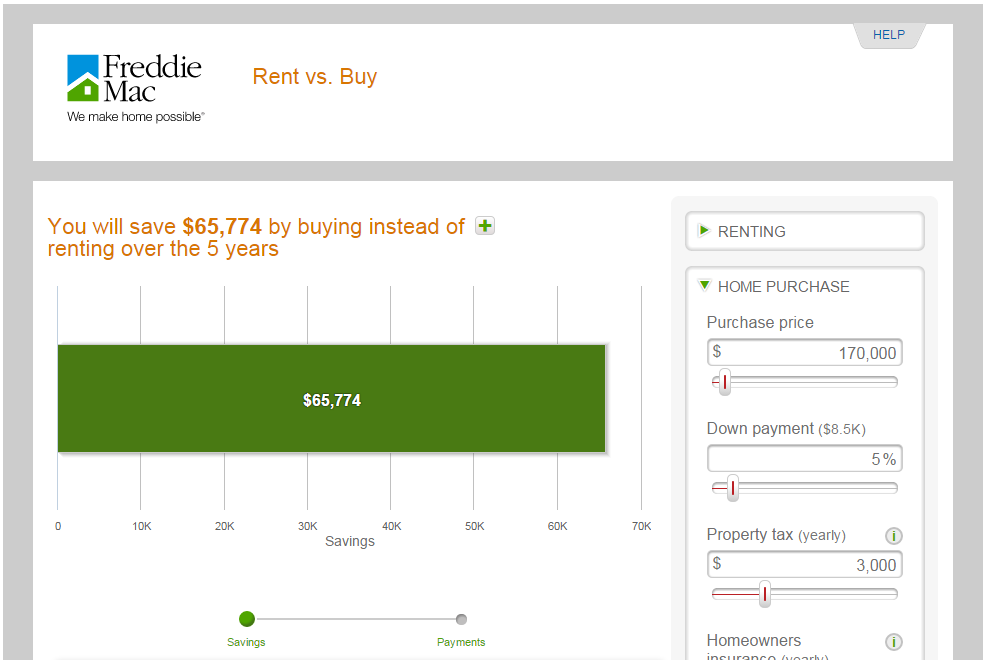 If you input the following criteria, you will be astonished that you can save $65,774 in 5  years if you purchase a condominium like the one described below and pay about $200 per month less than the monthly rental:
Home Purchase Assumptions:
Purchase Price $170,000
Annual Property Taxes $3000
Assume Monthly Condo Association fees $210 monthly ($2520 under maintenance)
Annual Home Owner's Insurance $360
4% fixed interest rate
30 year loan term
5% down payment
There is a default of $1500 origination and 1% points; the calculator won't let you change those figures.  In reality, if Movement Mortgage is your lender, $2500 normally covers all of your closing costs, including origination (we do not typically charge points)
Leave "other settlement services" blank
Monthly Rental:  $1550
Monthly Renter's Insurance $20
Annual rental increase 5%
Your home should appreciate at about 5% per year
You will stay in your house for 5 years
10% selling costs after 5 years of home ownership
40% combined Federal and State income tax bracket
Your annual personal savings rate of 1%
**If you were to purchase a detached house, having no association fees, your 5 year saving would be significantly greater
Question 2) "Are there low down payment programs available to me?"
Yes; there are several:
There are zero down payment mortgage types:
VA
USDA Rural Development
Down Payment Assistance programs:
MSHDA (Michigan State Housing Development Authority)
Low Down Payment mortgages:
FHA 3.5% down
Conventional loans with as little as 3% – 5% down
Find the Perfect Home with PiperPartners
Question 3) "What do I look for in a lender?"
Here are the top 5 most important qualities for a lender:
You should work with a seasoned professional who will help you select the best mortgage loan type for your personal situation; one who has a wide range of mortgage types to fit most buyer needs
Your lender should be intimately familiar with the geographic area in which you are purchasing
Don't be fooled by "teaser rates" advertised by internet and call center lenders.  Virtually all lenders originate loans to be sold on the secondary market in the form of mortgage back securities.  These securities require a specific yield, which is comprised of interest rate and lender fees.  If a rate sounds too good to be true, it is!  A lender can easily lower the rate by charging additional fees.  If you are "rate sensitive" you should discuss several rate/fee options with your lender and be fully aware of how much you are paying for a lower rate
Use a lender you are comfortable with and whom you trust
Your Realtor can assist you with lender referrals
Mary Adams is a loan officer and branch manager with Movement Mortgage. She brings years of experience in many different markets and is well respected for her knowledge and expertise in financing options. She provides customers with the highest level of mortgage services. Contact Mary at (231) 437-0301 or madams@marketplacehome.com.
Related Posts