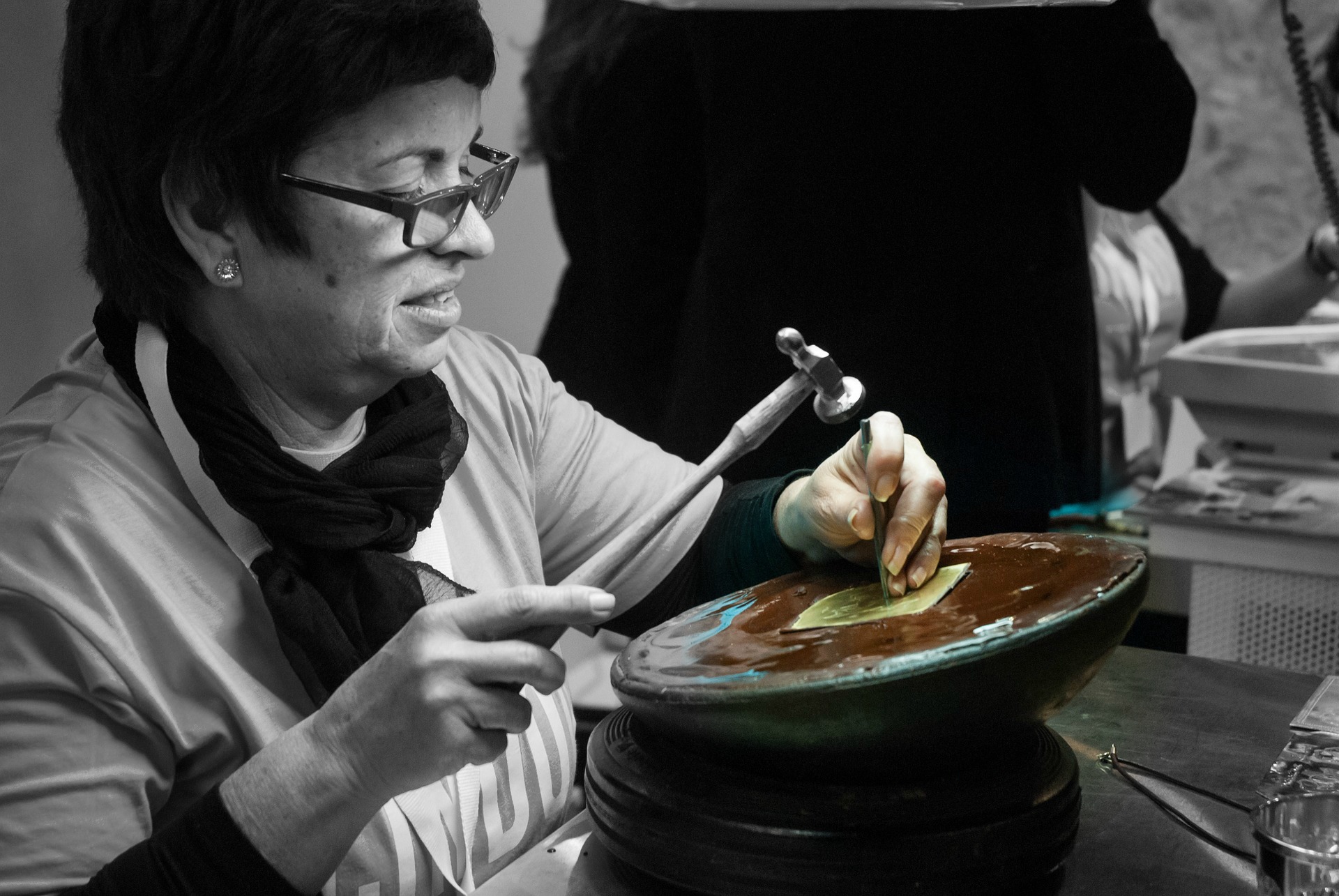 As residents of Ann Arbor, we are lucky to have many wonderful businesses and organizations that are working to facilitate creative spaces for hands-on craftsmanship and learning in our community. Maker Works, the Michigan Folk School and the Ann Arbor Art Center are here to help anyone learn to build, invent, and artfully create almost anything you can dream up. They provide the space, training, tools, and technology needed in supportive and safe environments. They will help you learn traditional folk art and primitive skills that were in use generations ago, support you as you create unique works of art, and teach you how to use technology and high tech machinery to invent a product and start a business!
While we have many organizations in the area that offer training and workspace for artisans, these three stand out to me as ones that complement each other in their focus and mission, and they align with our mission of being giving leaders in the community. Collaboration and education in an open space for exchanging ideas are the hallmarks of these organizations!
---
Maker Works
Maker Works brings 21st-century technology to traditional vocational arts and crafts. Whether you're an artist, engineer, inventor, student, fabricator, entrepreneur, hobbyist, or all of the above, this is a place to actively design and build your future!
They have a number of different "maker spaces" available in all kinds of creative mediums. On the technological side, they provide 3-D printing, laser and plasma cutting tools, computer numerical controlled (CNC) routers, and electronics studios. They also have traditional handiwork shops for woodworking, jewelry making, metallurgy, sewing, embroidery, and more. With hands-on training and classes available for novice craftsman, they are the 4th Industrial Revolution meets high school shop class!
Maker Works motto is "come for the tools, stay for the possibilities in Ann Arbor's largest community workshop." They are here to bring your ideas to life! You can visit them online or call to set up a tour and purchase a membership!
---
The Michigan Folk School
The Michigan Folk School is committed to creating a community engaged in authentic, hands-on experiences through the teaching and sharing of traditional folk arts, crafts, music, and bushcraft skills in a natural setting to promote the preservation of forest and farmland. They seek to create a community that honors "the old way of doing things"
They offer access to "skills you may have once learned while sitting on your grandparents' porch or as part of your community."  They provide training in hands-on skills like woodworking, blacksmithing, toolmaking, sewing, knitting, weaving, spinning; in homesteading and farming skills like cooking, canning, and raising livestock; and in Bushcraft and primitive skills like building friction fires, learning medicinal plants, primitive trapping, and natural building techniques.
While they offer a lot already, they are looking towards the future where they envision programs that will include, organic food production, animal husbandry, increased folk arts training, garden education, soil and water conservation, cooking and nutrition education, community engagement and stewardship, and land preservation and native planting.
The Michigan Folk School is located at Staebler Farm County Park. The Staebler farm was purchased by Washtenaw County in 2001 with the intent "to provide unique recreational experiences while preserving its agricultural legacy for future generations through educational programming."  The farm is a total of 98 acres and includes a historic farmhouse, outbuildings, barns, pastures, farm fields, two natural lakes, Fleming Creek, two man-made ponds, woodlots, and wetlands.
---
Ann Arbor Art Center
Ann Arbor Art Center offers a contemporary forum for the visual arts through education, exploration, collaboration, and exhibition. They focus on engaging minds, expanding perspectives and inspiring growth in students of all ages, teachers, artists and the community. 
They serve both artists and the community in four distinct, yet interrelated ways: retail, exhibition, education, and community engagement. The Art Center "allows aspiring and professional artists to work comfortably, safely, and creatively," says Ann Arbor Art Center President/CEO Marie Klopf.
The Art Center also has a renovated metal-smithing and jewelry-making studio space that offers year-round class programming led by expert instructors and provides open studio times for artists and jewelry makers to work independently. Facility improvements combined with equipment upgrades enable the Art Center to expand and increase program offerings to include design and fabrication, torch work and metalsmithing techniques, and encaustic painting.
The Ann Arbor Art Center's mission is "to be a contemporary forum for the visual arts through education, exploration, collaboration, and exhibition, and to engage minds, expand perspectives and inspire growth in students of all ages, teachers, artists, and the community."
---

Why Hands-On Creative Work Is So Important
Creating, building, inventing, and exploring the world through hands-on craftsmanship is a fundamental way to bring happiness and well being into our lives. It has been the cornerstone of human progress to date. Today, most of us buy almost all of what we want and need and rarely make anything. Everything from our furniture to our food is made for us. Collectively, we have forgotten how to use our hands and are deprived of the pleasure and pride that comes from hands-on creative expression. Furthermore, our children have little to no practical training in school or at home on how to make and repair items they use in their daily lives.
Whether you are looking to hone your skills or learn a new hobby altogether, consider dedicating some time this coming year to crafting, creating, and building with your hands!
Related Posts