With Halloween coming up knowing when trick or treating is happening and what other events you can wear your fantastic costumes to is always helpful! Here at the PiperPartners team we are always looking for ways to help our friends and neighbors.
The surrounding communities listed all trick or treating on Halloween night (Tuesday this year). Right after their names are the times they are trick or treating this year.  After you will find a related event in the community with links to more information.
Halloween Boo Bash @ Briarwood Mall – Join us on Saturday, October 28th from 5-8pm for our Halloween Boo Bash event. There will be trick-or-treating from 5-6pm and activities until 8pm. Dress to scare and well see you there.
Halloween Treat Parade – Tuesday, October 31, 11am-5pm – It's our 17th annual Treat Parade in downtown Ann Arbor! Main Street area merchants welcome your little costumed characters to the neighborhood with greets and treats. Black and orange balloons will fly from participating businesses. Join the fun from 11am to 5pm.
Halloween Hootenanny – The Hootenanny is a fun evening of Halloween treats and activities! There will be Pumpkin Drawing, Kooky Cookie Decorating, Face Painting and more. Whether you're meeting to share costumes and a play date or just stopping by on your way home from school, visit the Deli and have some Halloween fun!
This Community Halloween Party is free and open to all! Families are welcome to stop in and grab a hot dog and chips, warm up with coffee or hot chocolate or just visit with friends and neighbors.
Dexter (5:30-7:30pm)
The Chamber of Commerce and local businesses will also be sponsoring a trick or treat opportunity in Monument Park on Tuesday, October 31, 2017 from 1 pm to 4 pm and at participating downtown businesses from 9 am to 4 pm.
Blast Corn Maze – This maze has 3 exits (Short, medium, and full) as to accommodate many corn maze fans & enthusiasts.  Corn mazes not your thing? Come pick a pumpkin in our U-Pick Pumpkin Patch which is available during normal business hours.
Manchester (5-7pm)
Trick or Treat Come downtown with the kids to get them candy and caramel apples on Halloween at the gazebo in Wurster Park. The event runs from 5-7pm. Many of the local businesses downtown hand out candy as well.
20th ANNUAL DOWNTOWN TRICK OR TREATING will be happening on October 27, 5 – 6 PM. Trick or Treat at downtown merchants and visit other non-Main Street businesses at tables in Tolan Square.
TALLADAY FARMS CORN MAZE – The Talladay Farms Corn Maze features fun for everyone! Two mazes for your friends, family, or groups to get lost in.
Stop by the Candy Safety Check on Halloween Night from 6:30-9pm. Pittsfield Township Public Safety will be onsite to check and make sure that each bag of goodies is safe!
 Boo Bash is next Friday, October 20th! Don't miss out. This family Halloween event sells out every year.
 Trunk-or-Treat is a way for your child to dress up and trick-or-treat in a safe environment. The children will go car to car in our Community Center parking lot (indoors if the weather is bad) to collect their goodies. There will be games and prizes afterward. Costumes are required.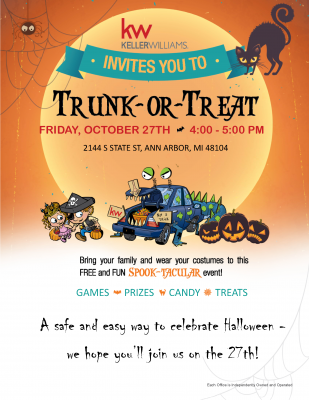 Related Posts