Are you looking to make your home more comfortable, safe and healthy? These home health and safety upgrades are for you and will increase your peace of mind!
Upgrade Your Smoke Detectors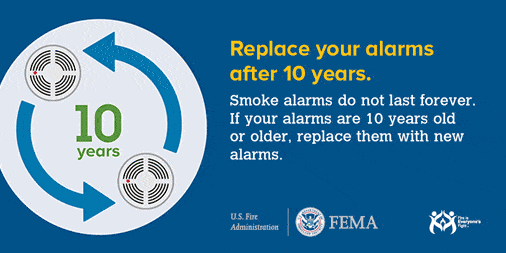 When is the last time you checked the batteries or updated your smoke detectors? Do you check them monthly? According to FEMA, three out of five home fire deaths result from fires in properties that don't have a working smoke alarm!
Action Steps for Replacing Smoke Detectors:
Replace the batteries in your smoke detectors once per year. The easiest way to remember to do this is to put it on your calendar and get into a set schedule. For example, two good times to swap out the batteries are at daylight savings time, or at the new year. It's also a good time to review your fire escape plan and even do a fire drill with your household members. So maybe January 1 isn't the best date?
Replace your smoke detectors if they are more than 10 years old. Smoke alarms are not expensive and are worth the lives they can help save. Changing out a couple of smoke detectors takes very little time too!
Upgrade to wireless smoke detectors. If possible check out dual-sensor alarms, which are alarms with a microprocessor that are faster to alert and produce fewer false alarms. If your smoke detectors are not hardwired, consider radio frequency/wireless alarms that communicate with each other, without wires. Some fire departments also offer reduced-price or free smoke alarms. Contact your local fire department's non-emergency phone number for more information.
Install a Whole House Water Leak Detection System
In a home, water is the enemy. Damage from water is much more common than fire damage and these leak-detection systems can prevent expensive damage in many situations. Water damage from a failing water heater, a burst pipe, a leaking ice maker, a broken supply line under your sink, a clogged toilet, or even a split hose connected to your washing machine can cause damages exceeding $100,000! With that in mind, not only can one of these systems save you a ton of money, they also offer a great peace of mind if you are away for an extended time.
State Farm Insurance offers a nice video and a list of suppliers that offer different water leak-detection systems with automatic shut-off valves available.
Generally, there are two types of whole house systems, the single-point whole house flow monitoring and multi-point based monitoring, which also deploys moisture sensors. Both will shut off the water at the supply, sound an alarm, and notify you via email or phone if there is a detected leak. There are simpler systems that just sound an alarm with no connectivity, but you would have to be home for these to be helpful!
Costs for the best systems will exceed $2,000 installed, however, the cost of avoiding a basement full of water or water raining down from your ceiling? Priceless!
I particularly like the FloLogic system – it does not use sensors at each water area, but rather monitors flow and also works with a smartphone app. Check it out here. While this is my personal favorite, please check with your insurance company or a licensed plumber to find the system that's right for your particular home.
Install a Battery Backup for Your Sump Pump System
If you have a sump pump, this is an improvement that is pretty important for most anyone to do! They are not that expensive and can save you from a disaster.
Think about it – when does the power go out? During a storm. When is a sump pump most needed? Yep, during a storm. Just do this. Do it now. $300 plus a battery will get you a system like this WAYNE WSS30V.
If you own or buy a home in any of the Ypsilanti Township neighborhoods, the water table is high and your sump pump will run regularly. Protect your home from basement flooding and mold with a backup system, especially if you have a finished basement. Replacing drywall, paint and flooring can get expensive quickly!
Purchase a High-Quality Air Cleaner
Less exciting, but still very important to those of us with allergies, asthma, or pets, is a large high-quality air cleaner. These can make a big difference when used in rooms such as sleeping areas, finished basements, and any areas with pets or kids.
Properly sized units will exchange the air in a room five times per hour and will remove more than 90 percent of airborne particles! We'll spare you the details of what those particles contain. Yuck!
When looking for a unit, be sure to look for units that are quiet! I particularly like Blueair Air Purifiers Blueair's patented HEPASilent® technology which combines electrostatic, carbon and HEPA-type filter technologies. These combined result in a very high filtration effectiveness with no ozone.
Units like this one also deliver large amounts of purified air, with the industry's highest CADR. The CADR rating reflects the volume of air in CFM (cubic feet per minute) that is cleaned of particles of certain sizes. This particular one is also very quiet, making it a great choice for a bedrooms.
I have had one one of the Blueair units for years and they are built like a tank. If you want to look at all of your options, the Allergy Buyer's Club is a good site to check for air purifiers.
Install a Ring 2 Video Doorbell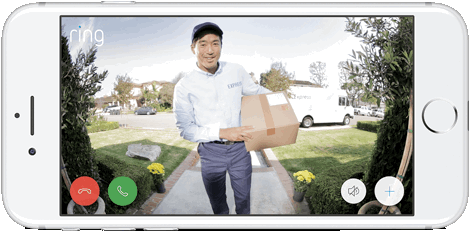 There is little question that smart devices for the home are here to stay and are going to change the way that we live. Amazon Alexa, Google Assistant, and Samsung Smart Things are just a few examples taking hold in the home in a big way. The Ring 2 promises to improve your world by reducing crime, and increasing convenience and safety. It also offers really easy installation.
The Ring doorbell is a smart doorbell that notifies homeowners when they have company or someone at the door. The cool thing is that it doesn't just notify with the ring of a bell. Unlike a traditional doorbell, it can send push notifications directly to your phone — whether you're home or away — and acts like a surveillance camera for your door, so you can view activity outside. It also has a two-way talk feature that allows you to interact with visitors, which can also be kind of fun sometimes!
If you want to upgrade the safety, health and security of your home, take the time to look into these home upgrades. There are many options available besides the ones that I've mentioned here, and I do not officially endorse any products. You should always consult with a professional contractor or topic-specific expert to find the best choice for your home! If you would like list of contractors who can assist with these items in the Ypsilanti or Ann Arbor area, please fill out the information request on this page and we'll be happy to pass along some great people to you!
Related Posts