A lot of homeowners are under the impression that listing their home during the holidays is a bad choice. Well, we're here to tell you that this is simply not true! In fact, I wholly endorse listing homes during the holidays. Let me tell you why.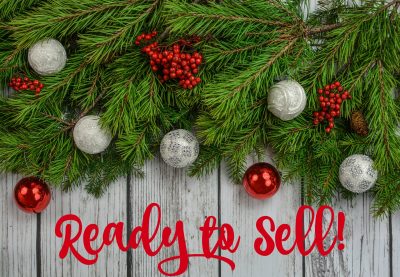 1. Less Competition
If homeowners generally believe that December, the holidays, or winter are terrible times to list a home for sale, then there will be very few homes for sale! This is exactly what is happening. Inventory is low at this time of year, and that means that your home has less competition on the market and that gives you the upper hand.
2. Buyers Shopping Now are SERIOUS
Just as homeowners who choose to list at this time of year are serious, so are buyers out pounding the pavement at this time of year. These buyers know that good homes are on the market and they are on the hunt to find them. These buyers want to buy, and they want to buy NOW. And, when personal circumstances make it a necessity – like work relocation or family changes – sellers stand to benefit.
January is one of the biggest months for corporate relocations, so don't let this opportunity pass you by.
3. Your House Looks Amazing for the Holidays – Take Advantage!
You've decluttered, decked the halls, and spruced things up for the holidays. Now, take advantage of this time of year when your home is at its best. It practically shows itself!
4. Be a Non-Contingent Buyer In the Spring
Think of how troublesome it can be to make a purchase offer contingent on your home being sold first. Now, imagine that your home HAS BEEN sold first! You can negotiate to stay in your home after the sale is wrapped up and find your dream home without that pesky home sale contingency muddying up your offer to purchase.
5. No One Knows What the Future Holds
If you are ready, don't wait. No one knows what the future holds and conditions could change in snap. Like what? Interest rates, the political climate, tax law changes and other key elements of home buying and investing could all cause big problems in the housing market at any time. Secure the home you need (and want) while conditions are right.
Get It Done Right
When you take the right steps to prepare your home for sale and have sound advice from a skilled Realtor, then selling your home during the holidays will be nearly effortless. Talk to us today to learn how you can sell your home during the holidays. You might just find yourself with something very special to toast for the new year!
Related Posts