When members of the community get together to learn, explore, create relationships, and become strong leaders, everyone benefits. That's what happens in the Ann Arbor Leadership A2Y program offered by the Ann Arbor/Ypsilanti Chamber of Commerce.  Read on to learn how our very own Andy Piper – a graduate of Leadership A2Y – grew and became even more actively engaged right here in Ann Arbor.
What Leadership A2Y Is All About
Imagine forming a group with other dedicated people from Ann Arbor and Ypsilanti who want to be engaged, understand, and create influence. What kinds of people? Any. This program is open to everyone: business owners, executives, professionals, managers, and any member of the community at large. Yes, anyone!
According to the program website, A2Y aims to help you identify and enhance the leadership qualities you already have. You also get the opportunity to collaborate with others as you tackle real-world, community projects. Because each group of participants varies from session to session, you are exposed to and develop relationships with a variety of different people who come from a variety of disciplines and backgrounds.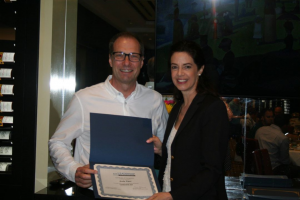 Andy Piper Graduates from Leadership A2Y 
Andy Piper's Experience in Leadership A2Y 
Becoming involved with the the Leadership A2Y program was the perfect thing for me. One of my goals is to connect more in our community and develop meaningful relationships with groups and individuals making a difference for the citizens of the Ann Arbor/Ypsilanti area – particularly in the areas of housing, food accessibility and transportation. This program greatly expanded my understanding of the needs, opportunities, and access to the people involved in meaningful change. I highly recommend this program to anyone interested in improving the quality of life here. ~Andy
Eligibility
A2Y is open to anyone living or working in the Ann Arbor or Ypsilanti area. Applications are accepted January through September, with the program beginning in October and running through June. View the class schedule here for a sneak peek into what subjects will be explored.
Businesses can choose to invest in their employees by encouraging or sponsoring participation in the program. It is an excellent opportunity to grow as a leader within your own organization and within the community, as well.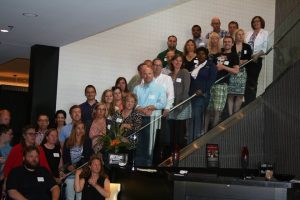 Photo: Ann Arbor/Ypsilanti Chamber
You Can Benefit from this Program
If you live or work in Ann Arbor or Ypsilanti and want to become more connected in your community, meet influential leaders and learn about the issues and organizations in the community, this may be a program that is right for you. The nine-month program really is an excellent way to take your leadership skills and community engagement to a whole new level.
Andy is a program alum and active member of the Ann Arbor and area communities. He would be delighted to share his experiences with you, so please feel free to contact him for information or advice by calling (734) 845-9700 or emailing him at andy@piperpartners.com.
CLICK HERE  for more information or to register for an upcoming session of Leadership A2Y or contact Barbara Davenport, VP of Foundation and Leadership, at (734) 214-0104 or barbara@a2ychamber.org.
We are neighborhood experts who will communicate with you openly and honestly as we help you buy or sell your home in the Ann Arbor Michigan or Washtenaw County area as quickly as possible. And, with our premiere marketing services, including a state-of-the-art website featuring over 1000 neighborhood pages, we are committed to making the process of selling or buying especially easy, too. Your circumstances are unique, and so are your homeownership needs. We get that. Contact us at Piper Partners Real Estate today.  We'll be happy to help in any way we can.
Related Posts