A diversion to help you warm up a little.
Instead of complaining about our April freezing temperatures and our sputtering, still dormant spring, take a moment and plan your summer weekend getaways to the beach!
Here are 5 of my favorite Michigan places to visit when the Ann Arbor real estate market slows down enough for me to get away.  Drive straight west from Ann Arbor for @ 2 hours and you will be at St Joseph beach! Close enough to do in a day. Or take a week and explore Sleeping Bear National Lakeshore, one of the most beautiful places on the planet.
Empire Beach and Sleeping Bear Dunes – The Empire city beach, otherwise known as Village Park is one of my favorite beaches anywhere! It offers shade, a few picnic tables, a playground for the kids, decent bathrooms. Very accessable! Just park at the beach and you are there. Miles of beach to walk. You can see the Manitou Islands from the beach as well as the towering Sleeping Bear Dunes.  Right on the edge of the Sleeping Bear National Lakeshore. Plenty of nearby nature hikes and attractions in the National Lakeshore Park.  Visit The Philip A. Hart Visitor's Center and find out all that the Sleeping Bear National Lakeshore has to offer. If you want a little busier town, head north to Glen Arbor and enjoy the bars and restaurants. I like the time forgotten feel of Empire. Empire has all you need; a grocery store, a couple of restaurants, ice cream shop, a few gift shops and even a public library if you need to go inside for a couple hours of reading or computer time in the A/C.
Nordhouse Dunes Wilderness Area – (Map) Huron-Manistee National Forests – Nordhouse Dunes Wilderness Area.  3,450 acre wilderness area. 4 mile hiking trail along Lake Michigan to camp off of – just pitch your tent anywhere!. Located within Manistee National Forest. Little or no cell phone reception. No crowds. There is a group campground at the trailhead that requires reservations early in the year. Wilderness camping with pristine beaches, beautiful dunes. Visit Ludington to the south and Manistee to the North.
Silver Beach – (Map) St. Joseph – crowded City Beach.  Right in town. Lots of people, walk the pier, get ice cream at the concession stand, take a break for lunch at Silver Beach Pizza, an old Amtrak depot turned pizzeria offering tall, frosty glasses of beer & a unique view of passing trains. When you are done with the beach, walk up the hill and visit St' Joseph's excellent variety of shops and restaurants.  One of the best art fairs in Michigan is in St. Joseph – the Krasl Art Fair on the Bluff – http://www.krasl.org/art-fair .This year it is held SATURDAY, JULY 14th – SUNDAY, JULY 15th.
Union Pier Beach – (Map) Also known as Town Line Beach. One of many roadside beaches up and down the Lake Michigan coast. Located in a great area of small towns, good restaurants and interesting road side antique shops and galleries. Best thing – it is  2 hours and 35 minutes to the beach, an easy day trip from Ann Arbor. Union Pier Beach has everything you need for a relaxing day of sun, at the beach.  
Put down a towel and a beach umbrella and relax with a book, a cold drink and expansive lake Michigan. You can walk the beach for miles if you want.  Stop by the whistlestopgrocery.com on the way to the beach and pick up a gourmet picnic lunch to enjoy. Keep it simple and you will be greatly rewarded!  
You can even make this a day trip, but I like to make it into a weekend by picking up an Airbnb room
While you are in the Harbor Country area, stop by the Harbert Swedish Bakery for breakfast, owned by the same family since 1932. Or, the Greenbush Brewery in Sawyer and don't miss Froehlich's Bakery & Deli, located in Three Oaks, MI., for a variety of house-made breads, pies, pastries, deli sandwiches, jams, jellies, pickles, & specialty foods. Truly a special treat!
Saugatuck Dunes State Park – (Map) A public recreation area covering approximately 1,000 acres on the shore of Lake Michigan between Saugatuck and Holland in Allegan County, Michigan. Hit the beach during the day! Walk in over the dunes about ½ mile to the beach. Relatively quiet and very clean beach.  Stay the night in Holland or Saugatuck and enjoy the simple pleasures of these West Michigan cities including great farm to table restaurants and brewpubs. While you are in Holland, visit my favorite Italian restaurant, Pereddies http://www.pereddiesrestaurant.com/. Old world character and charm that will completely carry you away.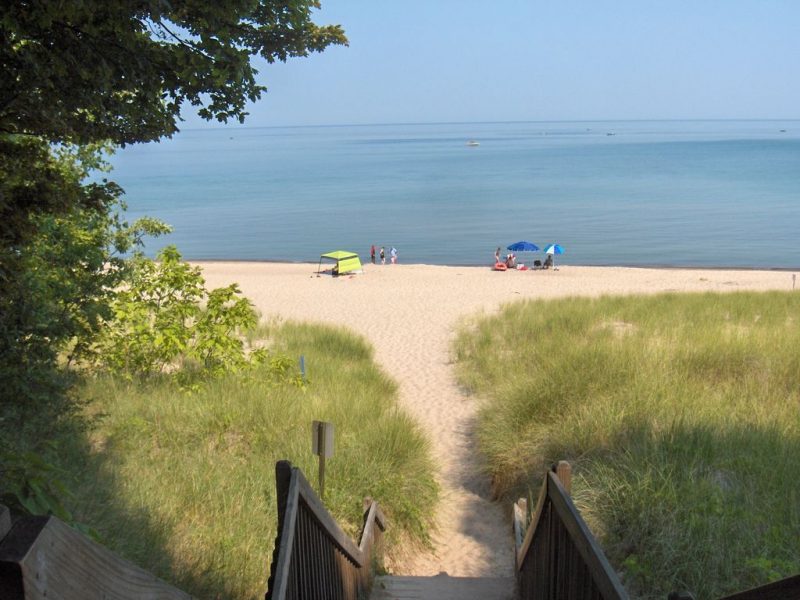 Well, I hope that warmed you up a little. It won't be long and you will be begging for a cool breeze off of the lake. This might be a good weekend to plan a getaway to your favorite Michigan beach. We would love it if you share your beach pictures and Michigan getaway destinations by posting to our Piperpartners Facebook or Instagram account.
Thinking of moving? Ask us to find out how much your home is worth, and receive a comprehensive, hand prepared, home value report for free!
If you have any questions about local things to do, Andy can help you! Give him a call at (734) 604-8242.
Contact Us
Related Posts