Some Quick Tips To Prevent Home Fires This Fall/Winter
The video above shows an entire livingroom catching fire in less than 5-minutes. These 5-minutes may feel like a long time while you're watching them elapse on your screen, but in an emergency situation, they will feel like seconds.
Each year an average of 2,500 people die and 12,600 are injured in home fires in the United States alone and direct property loss due to home fires is estimated to cost Americans $7.3 billion annually. Accidents while cooking account for the most home fires each year and more fires happen in the fall and winter due to the increased use of furnaces, fireplaces, and electrical cords attached to decorations and lights. To avoid tragic accidents, it is important that every household does periodic maintenance checks on heating and electrical equipment, and that they utilize fire safety habits all year long.
Here is our list of fire safety tips to incorporate in your home this fall/winter!
Fire Safety Tips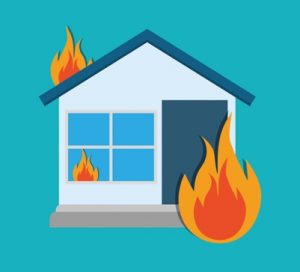 Have A Fire Escape Plan
We put this first on the list because even with the best preparation, home fires still happen. Power surges and freak accidents can send a house up in flames in minutes. In these moments a detailed and practiced fire escape plan can make a life or death difference for you and your family members.
Speak with all household members about a fire escape plan. Make sure every room has an exit strategy and that children know escaping the home is their number one priority above locating personal items and pets. Create an outdoor meetup spot so that you know when everyone in your home is safe. Draw this plan out on a map, hang it on your fridge, and practice it at least twice a year.
Make Sure Your Smoke Alarms Are In Working Order
Install smoke alarms on every level of your home, inside all bedrooms and in hallways. The U.S. Fire Administration recommends that you test smoke alarms monthly and change batteries at least twice a year. If you've recently bought a new home, make sure the smoke alarms are up to date and in working order. It is easy to forget about during the hustle and bustle of moving, but it is an integral part of fire safety that cannot be overlooked.
Practice Safe Cooking
The latest drama on Keeping Up With The Kardashians or another down-to-the-wire Football Game is not a good enough reason to neglect the food you have cooking on the stove. Stay in the kitchen when you are frying, grilling, or broiling food. Never leave the oven on when you are not home, and make sure all burners are turned off when you are finished cooking. These seem like obvious precautions, but often times complacency leads to costly mistakes.
When grilling outdoors allow for 10 feet between your grill and siding, deck railings, and deck/patio furniture. A flying ember can set your deck on fire in minutes. Check on your grill often while cooking, and never leave home with items on the grill.
Do Periodic Checkups On All Exposed Electrical Wires
Frayed wires cause fires. Inspect lamps, kitchen appliances, hairdryers, device chargers and any and all other regularly used electrical cords in and outside of your home annually. When you see an exposed wire, replace the cord immediately. Do not run electrical cords under rugs or furniture. Do not max out the number of wires that can be plugged into a plug strip and make sure you know which, if any, of your electrical items runs off higher voltage outlets (hot tubs for example).
When you are putting up Holiday decorations for the year, make sure to check all cords for damage and test them before putting them up in your home. This not only prevents you from putting up that dreaded dead strand of lights, but it prevents the likelihood of fires. Rodents often chew on wires stored in attics and sheds, and there is always the possibility that something was damaged during the previous year's removal and re-storage.
Make Sure All Heating Equipment Functions Properly
Space heaters should have a thermostat and be kept 5 feet from anything combustible and never left on when you are not in the home.
Inspect and clean woodstoves and chimneys annually and check monthly for damage or obstructions. Wood burning fireplace screens should be heavy enough to stop a rolling log and large enough to cover the entire opening of the fireplace. Fires, including all embers, should be completely extinguished before leaving the house or going to bed. Do yearly maintenance on furnaces, including changing the filter.
Other Miscellaneous Fire Safety Maintenance
Clean out vents, including laundry vents. Check lint traps. Lint is highly flammable.
Keep combustible and flammable liquids away from heat sources, pets and children.
Unplug hair dryers, toasters, and other appliances during the day
Cigarette smokers should smoke outside, extinguish butts in a can filled with sand, and soak in water before throwing out in a trash receptacle.
If you're interested in learning more about how you can implement fire safety precautions in your home, give us a call at (734)845-9700 and we'll be happy to talk with you or reach out to us on our website. 
If you are looking for more fall maintenance tips check out these other PiperPartners blog posts:
Related Posts